Alabama Sorority Bid Video Faces Backlash for Being Overwhelmingly White and Blonde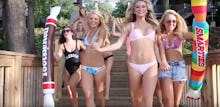 A University of Alabama sorority's recruitment video has gone viral and landed the Greek organization in hot water.
Alpha Phi's Bid Day video is notably short on information about the sorority's extracurricular activities, philanthropy or even its role on campus. 
Instead, it's essentially a montage of attractive white girls in short dresses and swimsuits dancing, posing and making flirtatious overtures toward the camera.
It's even got a gratuitous, slow-motion pan over the girls' short shorts as they pay homage to the college's football stadium.
The video quickly attracted criticism, with some saying it markets the sorority as a lifestyle in which only looks are celebrated, in addition to its embrace of stereotypical notions of femininity and its notable lack of anything approaching diversity.
"It's a parade of white girls and blonde hair dye, coordinated clothing, bikinis and Daisy Dukes, glitter and kisses, bouncing bodies, euphoric hand-holding and hugging, gratuitous booty shots and matching aviator sunglasses," writes AL.com's A.L. Bailey. "It's all so racially and aesthetically homogeneous and forced, so hyper-feminine, so reductive and objectifying, so Stepford Wives: College Edition. It's all so... unempowering."
Bailey adds, "They're selling themselves on looks alone, as a commodity. Sadly, commodities don't tend to command much respect."
A University of Alabama spokeswoman also criticized the video.
"This video is not reflective of UA's expectations for student organizations to be responsible digital citizens. It is important for student organizations to remember what is posted on social media makes a difference, today and tomorrow, on how they are viewed and perceived," associate vice president for university relations Deborah Lane said in a statement released to Fox 6 WBRC.
After an online backlash and articles featuring the video on major sites like the Daily Mail, Jezebel reports the sorority has deleted the video from their YouTube page and set their social media profiles to private or deleted them. The video, however, is still live on other YouTube accounts. 
On the sorority's official chapter website, all links leads to the same "not available" page:
On Twitter, some social media users expressed disgust over the footage.
Others were skeptical the video was indicative of anything.
According to AL.com, more than 2,400 women were a part of the 2015 rush process at the University of Alabama, and 2,261 women were added to the campus' 18 sororities. Though the university will not announce exact figures for "safety" reasons, a representative said 214 minority women accepted bids this year.
Fraternities and Greek culture on campus in general have come under attack in recent years. A number of high-profile incidents involving racist Christmas cards, offensive chants, alcohol abuse and a well-documented connection between fraternities and campus rapes have all contributed to growing concern about the role of fraternities and sororities, as well as a discussion of whether they are socially beneficial to colleges and universities.
Watch the video below:
h/t Jezebel