I Stalked Tom Brady and Gisele Bündchen on Social Media — Here's What I Learned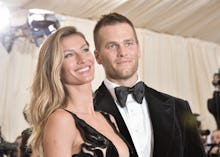 I'm a non-famous gay man in a relationship with another non-famous gay man. And yet I'm obsessed with the marriage of two hetero celebrities: Tom Brady and Gisele Bündchen.
I'm particularly obsessed with the couple's social media presence. Whether Tom's posting a picture of them making out on Valentine's Day or Gisele's the first person on Facebook to like his response to an NFL penalty, I can't help but marvel at how supportive they are of each other, how bulletproof their relationship seems to be. "Aw, look at them!" I'll sometimes think to myself, as if we're all friends vacationing together in Ibiza, instead of me creeping on their Instagram photos during my lunch break.
In an effort to find out if Tom and Gisele truly do have the perfect marriage, I decided to do a deep dive into the couple's entire digital footprint, hoping to glean insight into what their posts say about the football star and supermodel, myself and maybe even the secret to making my relationship with my own boyfriend work.
Here's what I learned. 
Our story begins on Aug. 23, 2011. On this date in history, Brady published his first-ever Gisele-related post on Facebook, a snapshot of the couple on the Met Gala red carpet. "A perfect evening," he wrote in the caption, tagging his wife's account. Their trips to every Met Gala since have been personally documented on either Facebook (in Tom's case) or Instagram (Gisele's), indicating that despite Tom's fanatical preoccupation with football, he still makes time to support Gisele in her professional endeavors. 
"You inspire me every day to be a better person. I am so proud of you and everything you have accomplished on the runway," he wrote on his Facebook on April 15 of this year, after she walked in what she said would be her final runway show. 
On Instagram, Gisele frequently returns the favor by rooting for her man. The caption "Let's go Pats!" frequently accompanies the snapshots that show up in her feed on game days, and when the Patriots won the Super Bowl earlier this year, she congratulated her husband, the MVP, on both Facebook and Instagram, with an action shot of their post-victory kiss (third image from left, below).
These posts suggest a mutual spirit of unwavering career support between the couple, which research has shown yields significant benefits for both partners in their marriages and careers. 
So far, so perfect.
They're super into holidays for some reason. When Brady isn't dominating a gridiron and Gisele isn't gracing magazine covers, chances are one of them is posting a photo of the pair dressed up like seventh-graders at a themed middle school dance.
"Thank you for being the most loving father in the world," Gisele wrote on Instagram on Father's Day 2013 (#1 in the grid below). "I love you so much," she gushed later that year on his birthday (2). "Having fun with my lion last night!" she Insta-chirped last Halloween, next to a photo of her dressed as a hot Dorothy from The Wizard of Oz (3). "Magical day!" she wrote on the couple's sixth anniversary, February 26 of this year (4).
While the question of whether adults in matching Halloween costumes are a) cool or b) the worst is up for debate, there's no denying that it sends a strong message: This couple is smitten AF, as also seen in Photos 5 and 6 below.
Let's also just take a moment to appreciate the couple's pair of Christmas photos from last year, posted from each of their respective social accounts, in which they coordinated matching Santa hats and captions. 
But what about their liking habits? As Mic recently reported, "liking" your partner's post on social media is a legitimate point of contention for many couples. In fact, some believe that an auto-like on a new post is a "requirement" for the relationship. 
If her social presence is any indication, Gisele clearly subscribes to this belief. A quick look at Brady's timeline proves that the model likes pretty much all of her husband's posts on social media:
Interestingly, however, Brady does not reciprocate his wife's liking tendencies. In fact, a quick search of her Instagram indicates he has never liked any of her posts, not even this incredibly #RelationshipGoals one of them kissing in the ocean with their children on their shoulders. 
While we might be tempted to give Brady a free pass because he doesn't have an Instagram account, the same applies on Facebook, where Gisele's digital approval is constantly on display. Even on Dec. 7, 2012, when she posted about the birth of their daughter Vivian, Brady was nowhere to be found.
Of course, there could be a few reasonable explanations for this discrepancy. Gisele might be an auto-liker of literally everything that comes through her feed. (This would explain why she, amusingly, likes all of her own shit.) Or maybe Tom's Facebook is maintained not by him, but instead by his manager, Ben Rawitz — who, we recently learned from court documents, prints out Tom's Excel files and goes online pool-cover shopping for him.
But only Tom and Gisele (and Ben Rawitz) know the truth.
Marriage or mirage? Regardless of their mismatched liking habits, we know from the news that Tom and Gisele's relationship has been far from perfect as of late. This is largely thanks to Deflategate, in which Brady was blamed for the Patriots' under-inflated footballs during last year's AFC Championship game. The scandal has resulted in ongoing legal drama, a possible four-game suspension in the upcoming season, an unfortunate courtroom sketch, divorce rumors and the publication of over 1,400 pages of previously private email conversations. It's reasonable to assume that this would create at least a little strain in even the healthiest of marriages.
For the sake of comparison, I took a quick inventory of my own relationship's online presence versus its everyday reality. And while my posts are representative of my boyfriend and I at our happiest, there is a glaring lack of evidence of all the less desirable moments of our union, like when we fight over Sirius in the car or have legitimate arguments over what to order on Seamless.
Regardless of what Instagram might tell us, no couple is exempt from these kinds of arguments, not even Tom and Gisele. And if I've learned anything from this stalking sesh, it's that celebrities are just as obsessed with self-curating perfect images of their relationships on social media in the face of imperfect realities as the rest of us are.
So the next time you're tempted to cyberstalk that couple that looks like they have it all figured out, remind yourself: They don't. Instead, they're probably fighting over the radio or are in the midst of a multimillion dollar NFL scandal or something. #RelationshipGoals aside, no one looks as good as they do on social media — not even an NFL quarterback and a Brazilian supermodel.
That said, I still love Tom and Gisele. And I can't wait to see what they post next.