13 Mind-Blowing Images of Landfills Around the World Show the True Cost of Our Waste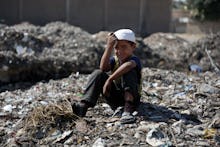 Every year, the world produces more than two billion tons of waste — enough to fill a fleet of trash trucks to circle the world 24 times, according to sustainability project the World Counts. The World Bank estimates the yearly global cost of dealing with waste is more than $200 billion and predicts annual waste will exceed 11 million tons per day by 2100 if current trends continue. 
But where does it all go? Whether it's an island built as a landfill or the outskirts of historic monuments, the world's waste is piling up with no end in sight. The following images offer an acute reminder of the seriousness of waste management and the desperate need to address it. It's simply not sustainable.  
Thilafushi, Maldives
Thilafushi is an artificial island created in the Maldives, a few miles off the coast of capital city Malé, to be used as a landfill. Smoke billows from Thilafushi as trash is burned in the background, with the Maldivian capital, Malé, in the foreground.
Maldivians who live in poverty search through the island's trash for reusable items and scrap metal, which can be sold for less than 8 cents a piece.
Douniamag, Hong Kong
This landfill lies in the official territories of Hong Kong, which generates approximately 6 million tons of Municipal Solid Waste annually — and it's only increasing. The city is facing this growing problem and has yet to find a solution.
"The continued growth in wasteloads [sic] means Hong Kong is running out of landfill space far earlier than expected, and the existing landfills will be exhausted one by one by 2020 if waste levels continue to increase at current levels," the Hong Kong Environmental Protection Department writes on their website. "Unless solutions are identified immediately, we could face a crisis in the next decade of having nowhere to put the thousands of tonnes of waste thrown away each day."
Bordo Poniente landfill, Mexico
Bordo Poniente lies on the border of Mexico City and was one of the largest landfills in use until it was closed in December 2011. A week after it closed, an inordinate amount of trash amassed on the streets of Mexico City over the Christmas weekend, leaving city workers overloaded. 
Port-au-Prince, Haiti
Much of the 5,000 tons of waste Port-au-Prince generates every day ends up in this 200-acre landfill around 3 miles north of Haiti's capital city, according to Yahoo News. Impoverished Haitians scavenge through the toxic and often burning landfill for scraps of metal to sell or recyclable waste in exchange for a small amount of money. 
Dudaim, Israel
One of the more advanced landfills in the world, Dudaim is unusual in its use of technology to manage its 1,300 tons of daily waste, according to the Bnei Shimon Regional Council's website. "Leeched liquid collection prevents aquifer contamination," states the regional council, and waste is placed in chambers, which are sealed on a daily basis. The council also uses the methane emitted from the landfill to generate electricity. 
Taj Mahal, India
While estimates vary, there are anywhere between 350 to 2,000 tons of trash generated every day in Agra, the Taj Mahal's hometown. Given India's inadequate infrastructure for dealing with the excess waste, much of it ends up in the surrounding grounds of the historic monument. 
"India is the second largest nation in the world, with a population of 1.21 billion, accounting for nearly 18% of world's human population, but it does not have enough resources or adequate systems in place to treat its solid wastes," according to the 2012 Sustainable Solid Waste Management in India report published by Columbia University. India is facing a similar problem to that of Hong Kong's, and many major cities, in that there is no sufficient solution for dealing with MSW as the amount of waste is increasing.
San Mateo landfill, Philippines 
Despite public resistance, this controversial landfill was carved out of the San Mateo mountains in 2009, northeast of Philippine capital Manila, and spans over 19 hectares. Local farmers opposed its construction because of their ensuing displacement and environmental groups reportedly opposed the landfill because of its proximity to a watershed and protected forests. 
Beirut 
Lebanon is on the brink of disaster because of its poorly managed garbage crisis. Since the closing of Beirut's main landfill in July, more than 20,000 tons of trash have accumulated on the capital's streets, according to Al Jazeera. The country's health minister, Wael Abu Faour, said Monday they were nearing a "major health disaster," with dangers of contaminating air, food and water, reports the New York Times.
The heaps of trash have been covered with poison powder to mitigate rat infestation, but, according to local residents, the odor remains unbearable.