Tracy Morgan Will Return to 'SNL' to Host Third Episode of Season 41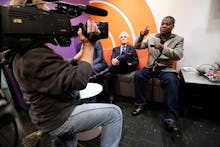 Tracy Morgan is slated to host an upcoming episode of Saturday Night Live, the show announced Monday via Twitter. The famed comedian was a regular on the comedy series from 1996 to 2003 before he starred on NBC's hit show 30 Rock, satirizing himself as the character Tracy Jordan. 
The first three episodes of the new season of SNL are scheduled to air Oct. 3, Oct. 10 and Oct. 17. Other upcoming hosts include comedian Amy Schumer and Miley Cyrus, SNL announced. 
Morgan was critically injured in June 2014 when his bus was hit by a Wal-Mart freight truck in New Jersey. One person was killed in the accident that tipped off a debate about safety standards for truck drivers. 
Morgan tweeted in June that he was thankful for people's support. He gave his first interview since the accident with Today that month.