Whatever Happened to Baby-G Watches?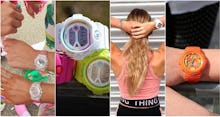 Tamagotchis, overalls, Full House, Limited Too, the Clintons — welcome to 2015, otherwise known as the '90s. Everything from our childhood is new again, even the things that had seemingly fallen into total obscurity. That includes none other than the Baby-G watch, which turns 21 this year (!).
Yes, the plastic watches are back, after slipping from our wrists about a decade ago. To celebrate the big two-one, Baby-G UK has teamed with London-based creative agency Anti-Agency to launch an online 'zine (another nod to the '90s) dubbed Pretty Tough, which showcases what Baby-G means to this new customer — who, if Baby-G has its way, is the same customer from a decade ago, just all grown up.
Today, Baby-G's big selling point is nostalgia, something the company is totally aware of. As "a brand that is rooted in '90s nostalgia but with fresh bold styles," Baby-G's campaign manager Hannah Rowe told HungerTV, Baby-G is aiming to harness the women who wore the watches as tweens. She added:
"It is a really exciting time for Baby-G, we have started to see a strong resurgence of the brand among leading edge girls and this campaign is all about championing what these girls are all about, whilst seamlessly mirroring the brand's 'Pretty Tough' ethos."
Will today's 20-somethings buy it? Turns out, they already are. Slowly but surely, Baby-G watches have crept back from their formerly cool status to be just vintage enough to feel right.
The crazy thing: Baby-G watches didn't actually really go anywhere. Introduced by Casio in 1994, Baby-G watches peaked around the late '90s. In 1998, when Bloomberg BusinessWeek covered the watch phenomenon, over 19 million G-Shock watches had been sold (including Baby-Gs) and parent company Casio had just recorded $3.7 billion in sales. And for American middle schoolers? They were all the rage.
"I felt like a baller when I first got mine — translucent purple. It was epic," Marie, 25, of New York City, told Mic. 
"Obviously, I had one... it made me feel so cool. All the cool kids had one," reminisced Emily, 25, another NYC-dwelling child of the '90s.
That cool factor faded somewhat during the early aughts, but Casio kept plugging away with the chunky digital watches — and so did diehard shoppers. The company kept introducing new styles every year, and fan sites like My G-Shock and G-Central popped up to keep new and old customers apprised of G-Shock news. The watches continued to find buyers online and popularity in places like Singapore and South Korea.
They've been slowly creeping their way back, subtly but surely, ever since. In 2009, to celebrate the brand's 25th anniversary, Casio threw an epic party with stars like Kanye West sporting the newest G-Shock watches. In 2010, they popped up in Rihanna's "Rude Boy" music video. In 2011, Kesha quietly collaborated with the Baby-G brand (it helped that her hit at the time was "TiK ToK"). 
Now, they're showing up on the wrists of characters like Tamra from The Mindy Project and the girls of Pitch Perfect 2, thanks to costume designer and longtime Baby-G lover Salvador Perez. This past February at London Fashion Week, models strutted down Sibling's catwalk wearing Fair Isle-printed Baby-G's in the label's signature pink. 
Most recently, the G-Shock brand partnered with the footwear label Supra for a limited edition line of G-Shock watches and Supra sneakers set to launch this month. 
All of that pique your interest? It should come as no shock that Casio is still releasing new Baby-G's, including four styles just this month. But does the watch still hold the same place in our trend-seeking hearts as it did back in 1998?
It was more than a watch then — and it's more than a watch now. Yes, it kept track of time in multiple time zones and kept ticking even after a spill in the pool. But with a plethora of colors, shapes and bands to choose from, Baby-Gs gave some girls in the '90s their first taste of what it felt like to express their style on their own terms.
These days, sporting that bright Baby-G expresses a different kind of style — a nostalgic one, one that likes a good throwback. (Dare we say normcore?) For those of us who can't resist a little '90s vintage touch, it's time to dig through that old junk drawer and see if your beloved Baby-G is still blinking.
Now, about that Spice Girls reunion tour...