VMAs 2015: Here's What We Can Expect From Host Miley Cyrus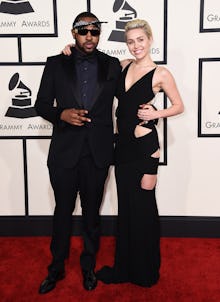 Miley Cyrus may be known for a lot of things to the typical culture-consuming millennial: a performer, an artist, a socialite, a philanthropist and even a twerker. Now, the "Wrecking Ball" singer can add host of the MTV Video Music Awards to that list. 
Cyrus first announced she would be this year's host on Twitter July 20, joking the awards show wouldn't let her perform anymore (following her controversial twerking performance with Robin Thicke at the 2013 VMAs), and so she would be emceeing the evening's festivities instead. 
While some may fear the possible outcomes of Cyrus hosting this year's event because, as Mic's Julie Zeilinger points out, "Miley has made no attempt to hide her 'edgy,' undeniably sexual adult self, which clearly deviates from her squeaky clean past as a Disney star," the network appears to be excited for Cyrus' hosting of the awards — as well as the potential for some high ratings. 
"Miley knows how far she can push things and where it would cross the line. Whether it's language or concepts for a pre-tape that go too far, she's the first to say, 'You probably won't let me do that,'" Jesse Ignjatovic, executive producer of the MTV Video Music Awards, told Billboard. "To this point, there hasn't been anything where you'd need to have a finger on a button ready to press it. ... She just likes to have fun, and I think it's going to carry through the whole show. And, of course, she will throw in some surprises."
Although the only confirmed performer so far is the Weeknd, who will open the show, surprises, rumors and leaked news are already pouring onto social media surrounding this year's VMAs.
Cyrus has been teasing promotional photos, videos and behind-the-scenes looks on her social media accounts, preparing fans for the show. In one, Cyrus even reveals the brand new iconic "Moon Man" trophy award recipients will receive this year, redesigned by Jeremy Scott. 
Cyrus brought down the house at last year's VMAs when she invited a homeless teenager named Jesse to accept her award for video of the year on her behalf. Jesse brought awareness to a homeless shelter for young people in Los Angeles called My Friends' Place, an organization Cyrus sponsored and brought attention to throughout 2014.
"My name is Jesse and I am accepting this award on behalf of the 1.6 million runaways and homeless youth in the United States who are starving, lost and scared for their lives right now. I know this because I am one of these people," he said.
A year later, Cyrus has founded the Happy Hippie Foundation, a nonprofit organization that "rallies young people to fight injustices." Audiences can expect Cyrus to dedicate at least one portion of the segment to raising awareness for social issues she has been vocal about before, from bullying to gender roles and nonconformity. 
The 2015 MTV VMAs premiere on MTV Sunday, Aug. 30 at 9 p.m. EDT.