Here's How Much It Costs to Go to the Best Universities in the World Outside the U.S.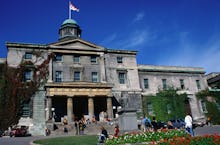 For decades, the U.S. college experience has been called "the best four years of your life," but recently, the experience has become more about paying for it. Since 1991, more and more students have been taking on more and more debt — in 2014-2015, these debtors averaged more than $35,000.
While many schools offer significant financial aid to the most needy, the United States is still largely an outlier internationally when it comes to the cost of colleges. Using a global ranking by U.S. News and World Report of the world's most prestigious universities, it's clear how much less Americans could be paying for an exotic education abroad. 
Below are nine of the most prestigious universities in the world, in many cases the cream of their nation and better than most U.S. institutions. In all of them, tuition is significantly cheaper than a number of Ivy League schools including Harvard ($45,278), Yale ($45,800) or Princeton ($41,820). Values reflect approximate U.S. dollar conversions on Aug. 18.
1. University of Oxford — International: $23,261, Domestic: $14,100 
Nobody really knows when the England university was founded. The school website maintains that teaching exited there in some form since at least 1096 making the school the oldest in the English-speaking world. Thomas Moore, J.R.R. Tolkien and Bill Clinton are a few of the notables who have passed through their halls. 
The school ranks fifth in the world — above every Ivy League school except Harvard. For British or European Union students, undergraduate degrees cost about $14,100, and while things can get a bit steeper for international students, the $23,261 the school charges per year for a degree in "History and Economics" is still almost half of what Harvard charges for a year of tuition.  
2. McGill University — International: $12,714, Domestic: $5,377 
Situated in the heart of multicultural Montreal, McGill offers students a chance to learn and mingle in the heart of one of Canada's most exciting provinces — an 18-year-old legal drinking age certainly helps as well. Since the school was founded in 1821, it has graduated 138 Rhodes scholars and established a prestigious reputation both at home and abroad. The school is ranked 44th in the world, several notches above the University of Southern California. For Canadian students outside Quebec, tuition costs about $5,377 for a Bachelor of Arts and Science, while international students face roughly $12,714.
3. University of Munich — International: $0, Domestic: $0 
That's right. You read that correctly. Zero dollars to attend a school ranked 48th in the world, below McGill and above its nearest U.S. competitor, the University of Southern California. In 2014, the last German state voted to do away with tuition, making the country 100% tuition free for German — and international — students. According to the school's website, "students are required to pay only the student union and basic semester ticket fees in the amount of 113 Euro." That's around $124. An incentive like that is enough to make any American say ausgezeichnet.
4. Peking University — International: $4,066, Domestic: $781
As the best institution of higher learning in a nation of more than 1.3 billion people, China's Peking University must be doing something right. The school sits on a leafy campus in the ancient Chinese capital's Haidian university district, and has a vibrant international presence. The school graduated China's most famous modern writer, Lu Xun, and even briefly employed China's founding father, Mao Zedong, in the school's library. 
The school is ranked 39th globally, slightly below Boston and New York Universities. Best of all could be the price. A year's tuition for international students is $4,066, or a few hundred dollars more than the estimated cost of books and "personal expenses" at Harvard. Most Chinese students who manage to get into the school, which is known for being ferociously competitive, pay a mere $781. And with the value of the Chinese RMB plunging in recent days, there's no telling how cheap tuition may become! 
5. National University of Singapore — International: $11,325, Domestic: $5,661
For anyone who has ever wondered what it might be like to go to school in a high-end shopping mall, the small nation of Singapore might be as close as you can come. The steamy outpost jutting just out from Malaysia is famed for its clean streets, efficient government and tough laws against vandalism. 
NUS boasts high-level partnerships with Harvard, Yale and Columbia but with tuition at a fraction of those institutions. While the school officially has steep fees, the government subsidizes both domestic and foreign students with a generous Ministry of Education grant. For Singapore natives, the actual cost of attendance per year is roughly $5,661 while international students face a bill of about $11,325. The school is ranked 55th in the world, tied with Rutgers State University and Sweden's Karolinska Institute.
6. University of Zurich — International: $2,500, Domestic: $1,475
Aside from all the chocolate and alpine skiing you can handle, the University of Zurich offers a solid academic experience and degrees from everything to dentistry to theology. If you can get around a pesky entrance qualification requiring proficiency in German, the school at the heart of Europe offers the perfect Old World oasis. 
International students can attend for a tuition of $2,500, with four years at this Swiss university costing significantly less than this Swiss watch. Swiss students save about a further $1,000 yearly on top of that. The school is ranked 83rd globally, just above Emory University.
7. University of Toronto — International: $26,970, Domestic: $4,617
As this exciting snowball fight show shows, University of Toronto students know how to have fun and make the best of the city's often punishing winters. The school, in a three-way tie for 14th internationally — higher than Yale — isn't as cheap as some of the others on this list, with international tuition for the 2014-2015 year standing at roughly $26,970 for a Bachelor of Arts and Science. The school is, however, a steal for local Canadian students, who can go for around $4,617 for the same degree. For any American looking to get some international experience but still stay close to home, the University of Toronto could be an A+ option.
8. University of Melbourne — International: $26,350, Domestic: $6,191
There's a lot more to Australia than Steve Irwin, kangaroos and that Simpsons episode. On the education front, there is the prestigious University of Melbourne, which in global rankings, is tied for 32nd with the University of North Carolina, Chapel Hill. If you choose to matriculate at Melbourne, you'll join an international student population that presently includes more than a quarter of the student body. 
Like most of the other schools on this list, Melbourne favors its own domestic students. Precise tuition costs are calculated based on a basket of classes students take. A university guide suggests a typical Australian student pays roughly $6,191 in tuition each year. Meanwhile, the school suggests that a typical international students can expect to hand over around $26,350.
9. University of Helsinki — International: $0, Domestic: $0
In case you thought Germany was a European outlier, Finland's University of Helsinki is also providing a model of what higher education could cost. Like Germany, schools in Finland do not charge either domestic or foreign students for bachelor degree programs. In Finland, doctoral and most masters programs are also tuition free as well. The university suggests only to bring money necessary to cover rent and living costs in the city. The school checks in at 100 on global rankings; meanwhile, Brown University, ranked 106, costs $46,408 in tuition a year.