The Obama Administration Is Launching a New Initiative to Treat Heroin Addiction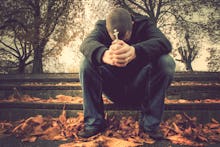 Heroin addiction is a disease as much as it is a crime.
That's the sentiment underlying the White House's new initiative on tackling heroin addiction, which, according to the Washington Post, "will for the first time pair public health and law enforcement in an effort to shift the emphasis from punishment to the treatment of addicts."
The newly announced Heroin Response Strategy is a $2.5 million, one-year experiment that will establish public health-public safety partnerships in 15 states scattered across the East Coast from Appalachia to New England. The initiative will "pair drug intelligence officers with public health coordinators to trace where heroin is coming from, how and where it is being laced with a deadly additive and who is distributing it to street-level dealers," according to the Post.
The $2.5 million for the pilot program is one component of a $13.4 million effort by the High Intensity Drug Trafficking Area program to address the heroin epidemic roiling the nation.
Heroin use has more than doubled among young adults in the past decade, and overdose deaths from the drug almost quadrupled between 2002 and 2013, according to the Centers for Disease Control and Prevention. The surge has been attributed to a rise in the overprescription and consumption of addictive prescription opiates — which often serve as a gateway drug to heroin — as well as a growing abundance of cheap heroin. 
The Obama administration isn't pouring an astonishing sum of money into the new initiative. As it stands, the program is quite modest: It entails hiring 15 drug intelligence officers and 15 health policy analysts who will coordinate in tracking the flow of heroin on the streets and overdose data across the states they've been assigned to, according to the Post. But the significant element of the initiative lies not in size, but in philosophy. Those health policy analysts will, among other things, provide instruction to first responders on how to spot and treat heroin overdoses. 
The decision to approach a drug epidemic as a health crisis is an encouraging development. It's representative of an outlook that's grown in popularity as heroin overdoses in various states across the U.S. have shot through the roof.
Earlier this year, Kentucky passed remarkable legislation designed to make state law far more merciful on heroin users. The law created clean needle exchanges, freed people who overdose from being charged with a crime, and expanded access to naloxone, a rescue drug for counteracting heroin overdose. Kentucky is one of dozens of states that have passed laws intended to prioritize addressing the health threats passed by heroin over punishing those who use it.
Desperation can help forge some rather unusual alliances. Senate Majority Leader Mitch McConnell (R-Ky.) — the closest thing to an archnemesis for Obama in the Senate — praised the new program Monday.
"This is a positive development for Kentucky's efforts to fight the use of heroin that is hitting the Commonwealth particularly hard," he said in a statement. "We must use federal resources to combat this epidemic in the most efficient and effective way possible, and I look forward to our continued efforts."
Consider it a victory for common sense.
h/t Washington Post