Here's What Stores Like J. Crew Can Learn From the Wonder That Is T.J. Maxx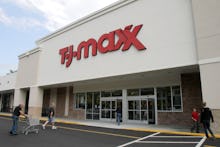 The company's logo is distinctly dated. The stores still send customers home with plastic bags, rather than the more chic (and eco-friendly) paper-and-ribbon variety. The store lighting is garish, and the shelves are often a hot mess.
But T.J. Maxx and its sister store Marshalls have captured young shoppers' attention in a remarkable way. As fashionable chains like J. Crew and Gap are hurting for business, TJX Companies, which owns T.J. Maxx and Marshalls, is thriving. In fact, shares of TJX jumped 7% last week after the company reported revenue increases that beat Wall Street expectations. 
Why? "TJX said those sales rose because more shoppers came to its stores," reported the Boston Herald.
There's a reason more people are walking through those automatic doors. T.J. Maxx has figured out something —several things, in fact — about young shoppers that other stores haven't.
The thrill of the hunt 
One look at T.J. Maxx's notably pretty Instagram account, and you'll see the store ethos emerge: It's all about putting fashion back in shoppers' hands. T.J. Maxx and Marshalls are about the thrill of the find, and the stores encourage shoppers to style the merchandise in their own ways.
TJX caters to the "hunt" mentality with a successful business strategy, which fills the store with one-off items from well-known designers and brands. TJX buyers don't plan the merchandise a season ahead, but rather buy again and again, all year long, so shoppers can find designer goods that are actually in season. TJX also has more than 1,000 people in its "buying" division, working in 10 countries to find deals from more than 17,000 vendors. 
T.J. Maxx isn't the only store that uses the "constant stream" buying model. Ross, of "Dress for Less" fame, also constantly refills shelves from bigger brands. But T.J. Maxx puts on bigger sales and has a much larger cult following (more than 3,400 stores worldwide, to Ross' 1,200) — and it's increasingly seen, remarkably, as fashionable.
According to USA Today, T.J. Maxx reports 85% of its merch is from designers' current collections, although Fortune notes that many items in the "Runway" section are from past seasons. But that doesn't seem to bother many shoppers, who are still getting their hands on, say, a Kate Spade dress for a fraction of its original cost. 
The mindset also ties with T.J. Maxx's Instagram strategy — the season of a piece is less important than how the individual customer styles it. To bring that point home, T.J. Maxx launched the "Maxxinista" campaign in 2010, hoping to cater to fashionable women, many of whom are younger shoppers. (A TJX spokesperson declined to comment on what fraction of the store's shoppers actually fall into the millennial demographic.)
The term might be, as Racked's Leslie Price put it, "horrid." But we don't seem to mind — the strategy to make Maxx a fashion destination seems to be working.
That never-ending, totally random variety 
Plenty of stores successfully cater to trendy young women, as the rise of Zara has shown. But whereas H&M, Forever21 and Zara offer on-trend imitations of runway items, T.J. Maxx offers designer items themselves. 
Variety also sets T.J. Maxx apart from other affordable department stores, such as Kohl's or Sears. While T.J. Maxx's competitors have established relationships with certain labels and designers, such as LC Lauren Conrad at Kohl's, customers never know which labels will be at T.J. Maxx that week, which is part of the thrill. And the selection is always trendy, aided by T.J. Maxx's quick-buying strategy.
"For me, I love the variety of styles," Theresa, a 30-year-old engineer, told Mic. "With the multiple styles, I don't really feel like I'm settling on an item — I usually find something I truly like. I know it may not be an actual deal for whichever designer it's from, but the price is still a steal! I also like that there's a huge selection of designers."
There's a huge selection of stuff in general — including home goods. In addition to clothes and accessories, young consumers love the fact they can buy artisanal honey, a set of T-Fal pans and nightstand tchochkes all in the same place. It should come as no surprise that, in addition to the home sections at T.J. Maxx and Marshall's, TJX operates 503 HomeGoods stores nationwide.
"I end up shopping there for so much more than just clothes [and] shoes," Deanna, a 32-year-old Maryland-based nursing student, told Mic.
The home shopping experience is random, but that's part of the experience. In a recent Racked ode to the store's home goods section, Megan Reynolds poetically described it like this:
"There are discarded scented candles sitting on top of piles of non-stick saute pans, with a hand towel thrown across the top for good measure. Someone has inevitably left a half-empty Starbucks cup directly on top of the pot you're trying to maneuver off a shelf. If you make your way to the packaged food section, you'll find that the package of Key lime flavored, chocolate dipped coconut patties you've selected with the intent to purchase is already opened. It's not perfect, but that's why it's so great."
Good deals trump all 
Doreen Thompson, TJX's vice president of global communications, explained to Mic that the company's "value mission" sets T.J. Maxx apart from its competitors. "We believe that delivering real value will remain at the heart of our success as we grow," Thompson told Mic. The "real value" is key for younger shoppers — research has shown that younger shoppers value genuine deals over constant, exaggerated "discounts."
While T.J. Maxx may not seem as "cool" as J. Crew or Zara — you certainly won't be greeted with complimentary water bottles and leather seats at T.J. Maxx — the lack of slick experience or aesthetic coherence doesn't seem to matter quite as much as we'd think.
Price, on the other hand, does. The recession benefited TJX's brands more than other stores, reported BuzzFeed, as young shoppers with student debt and low-paying jobs counted on finding better deals at T.J. Maxx than at other stores. "Millennial" shoppers are spending money, but selectively — that means spending on experiences and certain luxury items, like makeup, but going frugal on clothes. Data from firms Arbitron and Edison Research found that 60% of millennials shop for clothing "at the cheapest price possible."
J. Crew is already taking a hint from T.J. Maxx's success: The company plans to open a chain of J. Crew Mercantile stores later this year and in 2016, in hopes of appealing to bargain-minded shoppers. It's a wise move.
"T.J Maxx is the best, because it's like the best organized garage sale you've ever seen," Reynolds, of the home goods ode, told Mic. "There's something just jokey enough about being a 'Maxxinista' that works."
We have a feeling T.J. Maxx is in on the joke — and laughing along with us as we Instagram our $12 denim finds and tag them.