Two Women Just Became Army Rangers for the First Time in History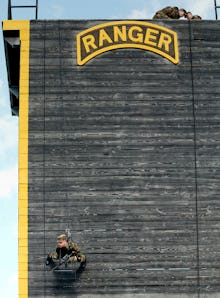 Two women, who are yet to be identified, successfully completed Army Ranger School on Monday and will graduate from West Point on Friday as the first-ever female members of the Army's elite force. 
Of the 19 women and 381 men who began the rigorous, 62-day training course in April, these two women and 94 men will graduate in the August cycle of Ranger School, with many either unable to complete it or having to repeat parts of the course, according to a Pentagon press release to CNN. 
How tough is it? Army Ranger training is one of the most rigorous mental and physical tests of strengths in the world, subjecting soldiers to long periods of food and sleep deprivation while training. There are three phases, or different terrains, in which soldiers must excel: woodlands, mountains and swamps. 
According to the Washington Post, physical and mental tests involve running five miles in 40 minutes, marching 12 miles with 35 pounds of gear in three hours, swimming endurance and land navigation. More than a third of soldiers who enter into the course end up repeating at least one of the three phases, CNN reports.
"Each Ranger School graduate has shown the physical and mental toughness to successfully lead organizations at any level. This course has proven that every Soldier, regardless of gender, can achieve his or her full potential," John M. McHugh, secretary of the Army, said in the Pentagon's press release. 
Breaking ground: The Army made the decision to allow women into the Ranger training course in January, so the April class was the first available to women soldiers. CNN reports both of the graduating women began Ranger training at that time but needed to recycle some of the training phases — common steps in a program where nearly half of recruits fail the first phase — meaning their graduation was delayed. Another one of the 19 women who started in April is currently recycling the mountain phase, meaning she would potentially be eligible to graduate in September.
NPR reports the Pentagon has yet to decide whether the women will be allowed to participate in ground combat and what exactly their roles as Rangers will look like.
"We owe soldiers the opportunity to serve successfully in any position where they are qualified and capable, and we continue to look for ways to select, train and retain the best soldiers to meet our Nation's needs," McHugh said, as the military ushers in a new era.