Chvrches' Lauren Mayberry Shuts Down Sexist Trolls on 4chan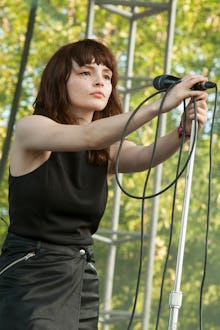 Lauren Mayberry, lead singer of the synth pop band Chvrches, went to war against misogyny again Monday. It all started when a Twitter user tweeted Mayberry a link to a 4chan music board discussion of Chvrches' most recent video, "Leave a Trace." The simple video shows Mayberry singing against a series of colorful backgrounds in a short skirt with slicked back, wet hair. It's epically normal, but users thought she looked looked too sexual.
"I thought Lavren [sic] was pure, why did she agree to dress like a slut?" one commenter wrote, while others traded quips about her breast size. When Mayberry saw the conversation unfolding, she immediately called it out what it was — unapologetic misogyny — giving her fans a glimpse at the slander she deals with regularly.
She also left the haters a fitting goodbye, tweeting a defiant video of Hayden Panettiere's character on Nashville.
Shut down: This is far from the first time that Mayberry has had to take such a stand. In September 2013, she penned a Guardian article about the numerous varieties of sexism women in her industry face, sharing some of the rape threats she receives constantly. In April, she posted one of those threats on Instagram and promised that she would not be cowed by online attacks.
"Is the casual objectification of women so commonplace that we should all just suck it up, roll over and accept defeat? I hope not," Mayberry wrote for the Guardian. "Objectification, whatever its form, is not something anyone should have to 'just deal with.'"
A 4chan user actually tried to use that quote against Mayberry in the discussion of her recent video. The user posted the quote, followed by: "*walks around in skimpy dress with wet hair*" while another chimed in: "She may be a hypocrite, but she's a hypocrite in a wet T-shirt with her hair slicked back."
These comments are exactly the same breed of objectification Mayberry has been battling since day one. The video is hardly overtly sexual, as the rest of Chvrches asserted in a tweet supporting their lead singer:
Interpreting her relatively tame appearance that way speaks more to the viewer's gaze and desires than any hidden suggestiveness in Mayberry's sartorial choices. Regardless, if Mayberry was trying to express her sexuality and show comfort with her body, she should be able to do so without inviting a chain of abuse. But such is the reality for female performers in the music industry. Their bodies are objectified and their artistry is dismissed; we've heard about it from numerous female performers, from Grimes to Nicki Minaj to Alicia Keys.
Lauren Mayberry is taking the stand every artist should against misogyny — however it rears its neck-bearded head.