Kentucky Student Reveals Collarbone, Violates Dress Code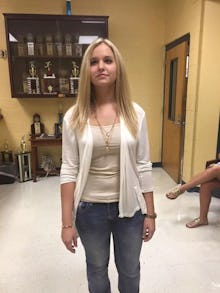 The principal of Woodford County High School in Versailles, Kentucky, asked Stacie Dunn, the mother of 16-year-old student Stephanie, to come to the school in order to deal with a disciplinary issue on Thursday. The infraction at hand, however, was not cheating on a test or fighting other students. 
Stephanie was being punished for failing to adequately cover up her female body — specifically, her collarbone. 
That day, Stacie Dunn wrote in a Facebook post that her daughter and other girls at school may "distract their male classmates" by exposing their collarbones. "This is ridiculous! Parents are being called away from their important jobs and students are missing important class time because they are showing their collarbones!"
Dunn shared a photo of her daughter's apparently distracting outfit: 
Dunn added that even after she had brought her daughter a scarf, Principal Rob Akers deemed the outfit "still inappropriate."
Dunn's daughter is not the first female Woodford student to be unfairly policed by this dress code. In fact, another student filmed an entire documentary about the school's restrictive policies in May. The film opens on group of female students describing how they feel about the code — including "shameful," "objectified" and "discriminatory" — and notes that the policy unreasonably requires that girls' "immoral" necklines are covered and that hemlines fall at their knees. 
"Certain outfits that they wore created a situation where guys would make inappropriate statements," Akers explains in the film of the rationale behind the policy, which was created in the 2004-2005 school year, according to the Lexington Herald-Leader. "There was a distraction to the learning environment based on what some of the folks were wearing at school."
Rather than address the male students who act out or make inappropriate statements, the policy effectively blames girls for their peers' unchecked behavior.
"Unfortunately, it always comes back to what the girls are wearing," the principal said.
Students everywhere fight back: Administrators at other schools have similarly put the onus on young women to police their own bodies in order to keep their male peers in check. One Connecticut school asked that girls dress "appropriately with class and dignity," and another in Canada disciplined a student for being a "sexual distraction" to her male peers.
Students, however, have been pushing back. In May, one student posted notes on the walls of her school that reminded the community to stop sexualizing 17-year-old girls' bodies, writing, "If my shorts make you uncomfortable you are the problem." Later that month, a group of Canadian students organized a social media campaign called #CropTopDay to protest the sexist disciplinary action one student faced.
Changing the rules: On August 15, Dunn posted that Akers had accepted a proposal students submitted for a more reasonable dress code and reported he would present it to the school board. According to Lex 18 News, the board will decide Sept. 21 whether to amend the existing dress code, but a new policy would not be implemented until January.  
Hopefully this school will amend its policy, but ultimately the issue is much bigger than a single high school or even dress code policies themselves. Too many educators enforce rules that objectify young women's bodies and blatantly prioritizes their male students' comfort and ability to concentrate over their female students' educational interests. Changing dress code policies, therefore, is just one positive step forward in a much larger movement to encourage society to regard women — no matter their age, what they choose to wear or any other factor — as equitable humans, worthy of the same treatment afforded to men.
h/t Addicting Info