Melissa McCarthy: The Term "Plus Size" Tells Women They're "Not Worthy"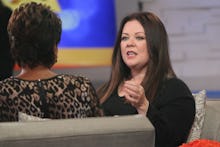 Melissa McCarthy, everyone's favorite comedic actress-turned-fashion designer, has become an outspoken advocate for plus-size shoppers, calling out the industry for neglecting shoppers and keeping the clothes "hidden by the tire section."
Now, McCarthy has rightly taken a jab at the term "plus size" altogether, saying it's an inherently problematic concept that devalues women. The actress, who recently debuted her own line, told Refinery 29:
"You're taking your biggest category of people and telling them, 'You're not really worthy.'"
She's not exaggerating: "Plus size" typically refers to size 14 and above, which now applies to 67% of women in the United States. That makes plus-size clothing a $17.5 billion industry. As industry analyst Tamara Sender wrote in the Business of Fashion, "Plus-size consumers can no longer be considered a minority or a niche demographic."
Nor should they be considered less valuable, or worthy of stylish clothing.
When categorizing means marginalizing: Despite the massive market, designers and retailers often fail to provide stylish clothing in larger sizes (even when they try). When the clothes are appealing, they're still not easy to buy: Plus-size clothing can cost more, or is completely unavailable in-store, creating an extra hurdle for shoppers. 
Those practical hurdles — not to mention judgment from other shoppers — work to marginalize plus-size women. 
So does the term itself, an argument plus-size models have been making for years. Model Stefania Ferrario started a campaign called #DropThePlus to jettison the term, pointing out that modifiers like "plus" only serve to separate out bigger women and cast smaller women as the norm. Models Robyn Lawley, Tyra Banks and Ashley Graham have all expressed the same sentiment.
Now McCarthy is taking up the cause. 
"I just don't get why we always have to group everything into a good or bad, right or wrong category. I just think, if you're going to make women's clothing, make women's clothing. Designers that put everyone in categories are over-complicating something that should be easy," she told Refinery29. 
That's why McCarthy's new fashion line, Melissa McCarthy Seven7, comes in a wide range of sizes, from four to 28, without drawing distinctions between the sizes. The line will launch this month in several major retailers, according to Refinery29. 
Shopping for clothing is difficult enough. It's about time that it didn't come with judgment-filled labels.