Josh Groban Sings Donald Trump Tweets on 'Jimmy Kimmel Live'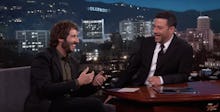 Josh Groban went on Jimmy Kimmel Live! Monday night to discuss life, his new tour and a surprise album he is dropping exclusively for Kimmel: The Best Tweets of Donald Trump.
"If you want to be taken seriously as an artist, strong lyrics are a must," Kimmel said as he introduced Groban's prerecorded commercial for the mock-album. "So tonight we are very proud, and very pleased, to bring two great talents together for this new album that I think is nothing short of magic."
The singer pointed out some of the glaring contradictions apparent in Trump's tweets. In one, the Republican presidential hopeful promoted his new line of men's cologne, "Success," available at Macy's. A second was a damning statement Trump tweeted toward the entire Macy's corporation after it backed out of business deals with him, following controversial remarks Trump made about undocumented immigrants.
Groban includes in his exclusive album for Kimmel (which follows his performance of Kanye West's tweets on Jimmy Kimmel Live four years ago) some shade Trump has thrown over the years, from President Barack Obama to Diet Coke fans and even some Internet folk:
Check out Groban's full performance on Jimmy Kimmel Live below: