Kristen Stewart Continues to Prove She's the Most Underrated Movie Star of Our Generation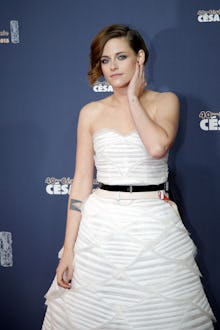 If you would've told a Twilight hater five years ago where Kristen Stewart's career would end up today, they wouldn't believe it. Best known for a franchise worshipped by many a tween and loathed by most adults, Stewart endured a litany of complaints from critics not only of her on-screen presence, but her public persona as well.
Complex called her annoying. The Huffington Post called her grumpy. The Los Angeles Times called her awkward. No less than former screen mom Jodie Foster (in Panic Room) had to rally to her defense in the wake of her affair with Snow White and the Huntsman director Rupert Sanders. Stewart seemed destined to be remembered as the Twilight actress with the bad reputation.
Then something spectacular happened: Stewart started fighting for her career. In the process, she became our most underrated movie star. Perhaps that's an exaggeration — do movie stars even exist anymore? But there's something undeniably magnetic about her. It's the kind of quality you can really only get out of a star.
To prove this point, here are five instances when Stewart proved she has star power for days and amazing acting chops to boot.
1. The Runaways 
Before Stewart hit her recent hot streak, she starred as Joan Jett in a movie about The Runaways. The 2010 film was a bit lost amid Twilight mania, making little money and only earning Stewart a few best-in-show notices. That's a shame because she shines. 
There's still a bit of her early roughness present — given today, this performance would likely be sharper and more incisive. But it's an electric start for an actress who would soon give us far more.
2. Still Alice
Nowhere is that progress more present than in last year's Still Alice. Opposite Julianne Moore's Oscar-winning performance, many actresses with Stewart's level of experience would find themselves terrified. Instead, Stewart crafted a beautiful portrait of a daughter learning to live with an oft-disappointed mother forgetting her entirely.
What's impressive about Stewart is the level of emotional investment. She's playing the brooding, starving artist — not far from Bella in Twilight — but using far more of her actor's toolbox to supplement her work. Unfortunately, Moore absorbed all possible awards attention for the film, but Stewart was also quite worthy.
3. Clouds of Sils-Maria
Still Alice was the first sign of greatness. Clouds of Sils-Maria, released in foreign markets last year and the United States in April, tells the story of an older actress (Juliette Binoche) and her young assistant (Stewart). It's a sexy, tempestuous tale full of parallel structure to confound the audience. 
More than anything, it's a smart film, and well-reviewed to boot. It's an intelligent choice for an actor in Stewart's position looking to prove her bona fides. Best of all: It worked.
4. Winning the César Award
How unusual is it Stewart won the César Award, known as the French equivalent of the Oscar? So rare it was unheard of. Stewart became the first American actress to win best supporting actress last year for Clouds of Sils-Maria. 
It's a shame that, thanks to limited release early in the year and minor box office success, the work likely will be forgotten come Oscar season. Something tells us she'll find her way to that big stage one day soon, though.
5. Talking about her sexuality
To be a star, however, is more than about the work. That's the difference between actor and personality, and Stewart's persona has always been fairly divisive. She doesn't play the press junket game well, preferring unconventional interviews to the standard format, and her discomfort prevents her from coming off as the intelligent, well-spoken person she is.
What a surprise it was, then, to see her knock it out of the park when asked about her sexuality. Rumors have swirled Stewart was seeing a woman — a fact the actress herself knows, teasingly telling those questioning whether she likes girls with a "Google me." But in that interview with Nylon, Stewart urged readers that definition and labels aren't required.
Every star needs a signature, from Miley Cyrus' Happy Hippie Foundation to Amy Schumer's feminism and sex-positivity. For Stewart to make the spectrum of sexuality hers, and to really own it, is more than a smart move. It's a heartening one.