I'm a 31-Year-Old Virgin, but Not for the Reason You'd Think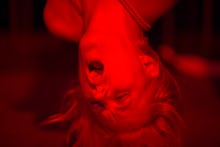 My name is Chris, and I'm 31. I have cerebral palsy and use a motorized wheelchair. I am also a stand-up comedian. 
While I don't open my sets with the cringe-worthy "sit-down comic" joke you all just made, I do open by saying, "Before we get started, I suppose I should answer the question you all have... Yes, my penis works." This joke always does well, but I feel odd when I tell it. I discuss my sexuality openly on stage, but away from the realm of fake brick facades, I don't talk about it at all.
That's because my sexuality only exists in theory. I am a virgin. 
I make my confession of involuntary chastity not for pity but to shine some light on the nuance of sexuality, in my experience as someone with a visible physical disability.
I was inspired to give a glimpse into my sex life by a Canadian orgy. A couple months ago, I came across a news item about an orgy for disabled people in Toronto to coincide with the Parapan Am Games. When I jokingly posted the item on my Facebook page, it was met with an unexpected chorus of "You should do this!" While the idea of virgin-to-orgy participant had its appeal, my only understanding of such things was Eyes Wide Shut, and that terrified me (I mean, what mask would I even wear?!). I decided to stay behind the keyboard for now.     
In my experience, "society" doesn't view the disabled as sexually viable people. Unlike other minority groups, the assumptions and lack of knowledge about the disabled come not from hatred but from an ignorance that grows out of misguided politeness. I'm not saying that people should ask me about my sexual viability in the grocery store. But usually, out of fear of offending me, people rarely ask me anything about the realities of my life, much less about sex. Even when folks do ask, or make bold assumptions, they usually miss the mark — badly: 
"You can't feel anything below the waist, so you can't have sex, right?"   
"You can always adopt children."  
"Wouldn't things be easier if you just tried to date disabled women?"  
Still, I've experienced far more blatant acts of disrespect. For example, when I go to a bar with a woman, other patrons and even bartenders openly hit on my date in front of me. I'm not saying this happens to me to because I'm in wheelchair, but it happens enough to make it clear that other people don't see me as being sexually competitive because I am disabled — that's just plain rude.
This is not to say that I believe every woman should line up to deflower me because society is uninformed and sometimes a little mean. That would be pathetic (and maybe awesome). Rather the environment described above is the backdrop for the biggest factor keeping me from carnal knowledge: My head... the one above my shoulders.
The trouble lies in a lack of trust in my body. My penis does indeed work, but I don't ever have faith it will work when and how I want it to. A lot of guys have fears of being able to perform, but for me, having a disability makes the fear more profound and general. My body has never been an ally, and often is something I have to fight against. I expect the worst because most often that's what I get. It's not just about erections but comfort, timing, patience and creativity. I've gotten pretty good at making women laugh, but I would also like to make them do other things. I just don't know how.
OK, well, yes: I know the basics. I am aware of (most) of the ways naughty bits, fingers, tongues, fruit and household appliances can get things done. I simply don't know my own body. Imagine being able to charm the pants off a woman without knowing the best way to continuing pleasing her. Masturbation is more or less logistically impossible, and porn makes me laugh more than it turns me on, and so I essentially have no idea what I'd like or what I can do.
Fear is a bitch. I did once make an appointment at a sexual surrogacy center (yes, that's a thing). In France, for instance, where sexual surrogacy is fairly common yet still controversial, Pascale Ribes of the Disabilities and Sexualities Group said such treatment is about allowing disabled people "a satisfying way to reconnect with the body" while addressing the "sexual distress" of many of France's nearly 2 million disabled people of consensual age, according to the New York Times.
Still, here in New York, I was politely turned away because "they couldn't help me." 
So here I am, dry as a bone — or at least like a dog without one. Don't get me wrong, my sexless life is not terrible. I have wonderful friends and a great time in life, but in the physical realm, I have always longed for normalcy, and that includes the Sex. I want it all: the great, the true lovemaking, the awkward, the drunk, the kinky, the filthy — bring it on.
Disability is an incredible broad term, so I'll never claim my experience in sexlessness mirrors all those who identify as disabled or use motorized wheelchairs. I can tell you how I want to feel as a pursuer of pleasures of flesh. I want to feel like everyone else who chooses to have sex. I want to feel desired. At the very least, I want to be an option. I'm 31, and I'm at the point in my life where I want answers about my future, just like anyone else my age. I'm not broken, just different.