UCF Frat Member Who Chanted "Let's Rape Some Bitches" Has Been Accused of Rape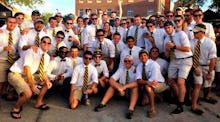 A member of the Sigma Nu fraternity at the University of Central Florida who was allegedly videotaped chanting "rape" at a party on June 9 has been accused of sexual assault.
The Orlando Sentinel (paywall) reports that two women, including the alleged victim of the sexual assault, identified a man based on his voice in the video, in which guests at the party can be heard saying "Let's rape some bitches" and chanting "rape."
According to the Orlando Sentinel's account, the alleged rape happened in October at the university's off-campus housing but was not reported to UCF police until February. The State Attorney's Office has not moved forward with the case. "We get 80,000 cases a year to review," spokeswoman Angela Starke told the Orlando Sentinel.
Sigma Nu was suspended in July after university officials learned of the video recording, and will additionally be subject to a Title IX investigation.
In a statement on the fraternity's website, the fraternity's executive director, Brad Beacham, called the tape "disrespectful, despicable and vile" and promised that "we will take appropriate action for violations of laws or fraternity policies."
While Sigma Nu's fate has yet to be decided, other fraternities involved in similar incidents have found themselves with penalties as severe as total campus bans.
Meanwhile, the connection between Greek life on campus and sexual assault is well-documented.
The Guardian noted last year that "numerous studies have found that men who join fraternities are three times more likely to rape, that women in sororities are 74% more likely to experience rape than other college women and that 1 in 5 women will be sexually assaulted in four years away at school." 
There's been a past pattern of similar incidents, including the Phi Kappa Tau brothers at Georgia Tech who traded emails with tips on "luring your rape bait" and a chapter of Sigma Phi Epsilon at the University of Texas at Arlington which was shut down after victims reported three rapes in less than the span of a month.
As Mic previously reported, other notorious incidents involving "racist Christmas cards, offensive chants, alcohol abuse and a well-documented connection between fraternities and campus rapes" have tarnished the image of the Greek system at U.S. colleges in recent years. One institution of higher learning, Wesleyan University, responded to allegations that its Greek system encouraged misogynistic behavior by forcing the school's fraternities to become co-ed.