Green Man Festival 2015: Ticket Info, Schedule, Lineup and More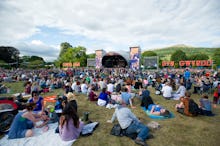 This year's Green Man Festival, an annual indie music and arts festival in Brecon Beacons, South Wales, is just days away.
What can music lovers expect from Green Man, aside from its eclectic array of musical genres ranging from alternative and indie to rock and folk? Comedy, theater, poetry, a hundred types of beer and its Cinedrome, which will feature a lineup of dramatic and family-friendly films. 
Festival officials want concertgoers to know there'll be plenty of booze to fuel them. "Eight bars, open around the clock, serving our own festival brew, hot toddies, cocktails and anything else you might want or need," the festival website reads. "Sadly, we can't allow you to bring your own booze in to the entertainment areas but, as you can see, you're not going to need it."
Here's everything else to know about Green Man Festival 2015: 
Ticket info
Unfortunately, tickets for Green Man Festival 2015 are sold out. 
Already have tickets but want the full VIP experience? There are still gazebos available for 480 British pounds (about $750). Concertgoers can also tack on massages, hot tub time and other relaxing experiences. 
Schedule and lineup 
The four-day festival kicks off Thursday and runs through Sunday. Festival officials expect around 20,000 concertgoers a day to flock to Green Man, the key driver of the region's music tourism industry, according to WalesOnline. The festival is in its 13th year. 
This year's headliners are Hot Chip, Super Furry Animals and St. Vincent. 
Here's the full lineup: 
Weather forecast
Going to Green Man and trying to plan ahead? Here's the weekend weather outlook for Brecon Beacons, according to the BBC and Gigwise. 
Thursday: Temperatures will reach up to 20 degrees Celsius (68 degrees Fahrenheit) with light showers in the afternoon. 
Friday: Less rain but still cool temperatures in the upper teens Celsius. 
Saturday: Expect a low around 12 degrees Celsius (54 degrees Fahrenheit) and possible rain showers. 
Sunday: Forecasters expect a high of around 17 degrees Celsius (63 degrees Fahrenheit) with temperatures dipping to around 12 degrees Celsius (54 degrees Fahrenheit) by night.