Chelsea O'Donnell, Daughter of Rosie O'Donnell, Found Safe After Missing for a Week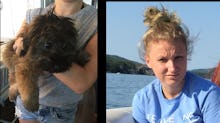 Chelsea O'Donnell, the 17-year old daughter of comedian and actress Rosie O'Donnell, had reportedly gone missing on Tuesday.
But by Tuesday evening, O'Donnell confirmed her teenage daughter had been found safe and sound at the Jersey Shore in New Jersey.
"Rosie wants to thank everyone for their help, especially the South Nyack, NY and Barneget Light, NJ police departments. Her daughter Chelsea O'Donnell has been located by the police and is safe in their custody," O'Donnell's publicist said in a statement, according to ABC7.
In a post to her website, O'Donnell said her daughter was last seen on Aug. 11 with her dog Bear in Rockland County, New York, and "has stopped taking her medicine and is in need of medical attention."
In posts to Twitter, O'Donnell provided photos of her daughter and the dog and asked for Chelsea to contact the family. She added her daughter may be wandering the New York City area.
According to Gawker, a family dispute between O'Donnell and Chelsea's biological mother, Deanna Micoley, may be related to Chelsea's ongoing disappearance.
An O'Donnell representative told ABC News that Chelsea, "like millions of people, lives with mental illness. It has been a difficult road for Chelsea and her family and they just want her back safe."
Aug. 18, 2015 11:16 p.m. This post has been update.