10 Years Ago, Kanye West Took One of His Boldest Stands to Ban These Words From Hip-Hop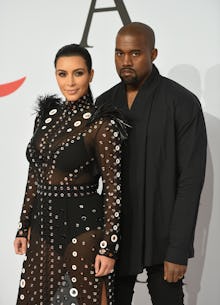 When Caitlyn Jenner came out to the world in April, she gave a lot of the credit to one man in helping her family understand her new identity: Kanye West.
"They were talking about it and [West] says to Kim, 'Look, I can be married to the most beautiful woman in the world, and I am. I can have the most beautiful little daughter in the world, and I have that. But I'm nothing if I can't be me. If I can't be true to myself, they don't mean anything,'" Jenner said of West in an April interview with 20/20.
This shouldn't surprise us, though. Ten years ago Wednesday, West took one of his boldest stands to date during an interview with MTV. He called on hip-hop to stop using the words "gay" and "fag" to discriminate against LGBT people, and to get back to the real values hip-hop was founded on.
For the past decade, he has used his platform to stand up for the LBGT community. That's no small feat in hip-hop, which has been filled with personalities like Brooklyn legend Big Daddy Kane, who once rapped plain as day, "The Big Daddy law is anti-faggot / That means no homosexuality," or 50 Cent, who told Playboy in 2004, "I don't like gay people around me, because I'm not comfortable with what their thoughts are." 
This is hip-hop. The genre has always been about "speaking your mind and about breaking down barriers, but everyone in hip-hop discriminates against gay people," West told MTV, according to the BBC. He added, "Not just hip-hop, but America just discriminates. I wanna just ... come on TV and just tell my rappers, just tell my friends, 'Yo, stop it.'"
The words were a major turning point in hip-hop's history. As the Nerve noted in its timeline of hip-hop homophobia, West became one of the "first hip-hop heads to really come out against homophobia."
It seems hip-hop may have listened. According to Rap Stats, a lyrics search engine provided by Genius, the use of gay slurs in rap lyrics was trending upward when West spoke out. But it began to drop a few years later. Rapalytics has observed a similar trend. In a 2011 Guardian article that surveyed hip-hop's acceptance of gay communities, writer Pete Cashmore suggested that it was West who "got the ball rolling."
West used to harbor homophobic views himself. He has described how he used to be picked on for being a "mama's boy" when he was growing up. On the playground, those kinds of "effeminate" slurs morphed into homophobic slurs "fag" or gay," which eventually West found himself parroting.
It wasn't until he realized his cousin was gay that West changed his tune. "It was a turning point when I was like, 'Yo, this is my cousin. I love him and I've been discriminating against gays,'" he told MTV.
West later claimed it was one of his riskiest career moves. He considers it bolder than calling out former President George W. Bush after Hurricane Katrina for not caring about black people and bolder than interrupting the vengeful Taylor Swift at the 2009 VMAs, according to Slate. 
In that piece, Jonah Weiner also describes how West helped popularize the phrase "no homo" in hip-hop, with a line from Jay Z's 2009 single "Run the Town": "It's crazy how you can go from being Joe Blow to everybody on your dick — no homo." 
This anecdote complicates the narrative of West as a gay hero, but Weiner challenges the homophobia of this line by arguing that "'no homo' is helping to make hip-hop a gayer place." It in its heyday, he argues, it offers rappers the language to slip nontraditional notions of masculinity into their rhymes, while giving them a ripcord to pull if need be.
Though now that "no homo" is used less frequently now, according to Rap Stats, we're seeing more actually egalitarian rhymes come through on songs like Macklemore's "Same Love," or Lil B's I'm Gay Album, or on Angel Haze's recent "Candlxs" dedicated to their girlfriend: "I'm devoted to you, babe, affection is risk / But do you have my heart? That's a definite yes"
West's opposition to homophobia is one of the most overlooked aspects of his legacy, but it may be one of his strongest. As we make our baby steps towards acceptance, his proclamations may be remembered as the tipping point towards acceptance, at least for hip-hop. 
Now that the genre has been recognized as the single most important musical movement of the past decade, that's a weighty credential. 
Correction: Aug. 20, 2015