'Call of Duty: Black Ops III' Reviews, New Features and Images for Latest Release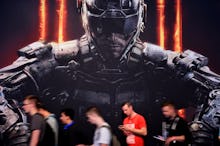 The latest installment in the Call of Duty video game franchise, Call of Duty: Black Ops III, is expected to roll out on Nov. 6 on several platforms, according to the official game trailer. 
It's been three years since Activision, the game's publisher, and Treyarch, one of its developers, released Call of Duty: Black Ops II. The people behind the latest version of the popular first-person shooter said fans could expect some big changes, including a new ranked play system, a competitive play arena and new weapons and equipment. 
"Call of Duty: Black Ops III is a dark, gritty future where a new breed of black ops soldier emerges and the lines are blurred between our own humanity and the cutting-edge military robotics that define the future of combat," a description on the video game's official YouTube trailer page reads.
Here's more about Black Ops III, including its new features, images and reviews: 
New features: One of the biggest changes coming to Black Ops III is a "revolutionized" competitive multiplayer format. "We want to open the lid to all the shit we've worked on," Dan Bunting, multiplayer director on Black Ops III, told Polygon in April. "All the lessons have come together. We want this to feel like the best of Treyarch." 
Black Ops III will allow players to choose among nine so-called specialists, or avatars, that come with their own weapons, personalities and unique abilities, according to Polygon. 
The game's developers also did away with built-in, linear hallways, opting instead for wide-open campaign levels, according to Game Rant. Another new feature is a jet-pack propulsion system that allows players to run along vertical walls and power slide, among other cool moves, Game Rant reports.
According to Metacritic, "In Black Ops III, Treyarch introduces a new momentum-based chained-movement system which enables players to fluidly move through the environment with finesse, using controlled thrust jumps, slides, wall runs and mantling abilities in a myriad of combinations, all while continuously keeping full control over their weapon." Players will be able to access a combination of "traditional movement" and "advanced tactics and maneuvers, Metacritic reports.
What does it look like? Here's a look at the new Black Ops III world: 
The early reviews are in. Video game aficionados who've gotten a chance to beta-test Black Ops III have said the magic is in the game's latest features and new setup. 
"Although I've spent quite a bit of time playing the multi-player mode so far, it's the campaign that's really drawing me to Black Ops III," Sam Loveridge of Trusted Reviews writes. "It's been built 'from the ground up' — yes, we hate that phrase too — for cooperative gameplay, with up to four players able to play through the campaign together as part of a bio-engineered military squad."
At the same time, "Your success is going to depend on how well you can fold new mechanics in with the series' tried and true old ways," Polygon's Griffin McElroy writes. 
Call of Duty: Black Ops III will be released Nov. 6 on PC, PlayStation 3, PlayStation 4, Xbox 360 and Xbox One. The developers said they'll release a beta version of the video game on Wednesday, according to Polygon.