'American Ultra' 2015: Latest News, Trailers, Reviews and More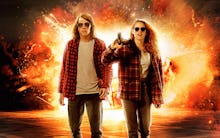 American Ultra, the action-packed stoner comedy with a breadth of romance and gore, premieres in theaters Friday, Aug. 21.
In a summer filled with sequels, remakes and animations, American Ultra aims to set itself apart from the film-flock hitting theaters across the nation. While some critics have hailed the movie starring Kristen Stewart and Jesse Eisenberg as a "bloody valentine attached to a bomb," others have noted it loses its storyline later on in the film. 
Reviews have been mixed for the film, as Variety points out, "The film's obvious antecedent, Pineapple Express, was thrilling because it committed equally to its Mutt-and-Jeff silliness and its genuinely brutal violence, giving its innocents-in-danger premise a surprising amount of emotional weight. American Ultra, on the other hand, often plays like a live-action Roadrunner cartoon, but without the sense of stylistic anarchy to pull it off."
American Ultra, an adaptation of a graphic novel that shares the same name, is the story of Mike and Phoebe, two West Virginia stoners who embark on a ridiculously action-packed journey after Mike discovers he may be a secret weapon trained from birth by the American government who simply can't stop killing people (and getting high). 
While some reviews say the storyline is lost throughout the film and the movie isn't exactly the box office smash Lionsgate hopes it might be, critics do note Stewart and Eisenberg have strong lead performances in the film. Deadline's Pete Hammond writes:
Eisenberg really gets to show off his comedic talents here in what is otherwise a frenetic, typically ludicrous, blood-soaked action comedy that really amounts to one big long chase. Kristen Stewart, also quite good here, plays Phoebe, the girlfriend of Eisenberg's Mike Howell. All they really want to do is smoke dope and take a trip to Hawaii for which they even have the tickets .. The pace is non-stop as you might expect for this Bourne-like comedy takeoff, but it is Eisneberg's show all the way and he delivers Landis' rat-a-tat dialogue in style. Once I settled into the rhythms of Eisenberg's performance I have to say laughed at everything he said, even though I wasn't sure why — and I swear I wasn't smoking anything at the press screening.
As of late Tuesday afternoon, Rotten Tomatoes had scored American Ultra at 36%. 
Time Out's David Ehrlich writes the film is "Artless and unpleasant, this is the kind of late-summer swill that gives August a bad name." 
The Wrap's Alonso Duralde echoes some of the previous noted reviews in his comments, writing, "The director and screenwriter lose their way, allowing the film's sensibility to degenerate from outrageous to cartoony, and piling up plot contrivances and corpses in stacks so high that they obscure whatever charms the film once might have held."
All critiques aside, fans and audiences continue to post their excitement to social media in the days preceding the premiere of the late-summer film: