Roads That Charge Electric Cars as They Drive Are Coming to the UK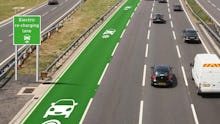 The United Kingdom is beginning an 18-month trial period for electric motorways, led by government company Highways England, which charge electric and hybrid cars as they drive. The decision comes after the successful completion of a feasibility study, published on July 28 and also conducted by Highways England, regarding the implementation of "dynamic wireless power transfer systems" into motorways.
The endeavor would involve placing electromagnetic field-generating technology under highways and fitting electric and hybrid cars with equipment which can turn those fields into electricity. 
"The off-road trials of wireless power technology will help to create a more sustainable road network for England," Mike Wilson, Highways England chief highways engineer, said in a government-issued press release. If successful and cost-effective, the technology would then be introduced to the public.
"The potential to recharge low-emission vehicles on the move offers exciting possibilities," Transport Minister Andrew Jones said in the same press release. "The government is already committing 500 million pounds over the next five years to keep Britain at the forefront of this technology, which will help boost jobs and growth in the sector."
It's been done before. A similar technology has been employed in Gumi, a town in South Korea, where 7.5 miles of road are equipped with shaped magnetic field in resonance technology, charging buses (outfitted with the necessary equipment) while they drive along.
Milton Keynes, a town in England, also uses a comparable technology, but it requires automobiles to remain stationary over plates embedded in the road to charge their batteries. The town introduced a fleet of buses capable of charging at these stations in January 2014.
A pretty penny. However, these technologies are not cheap. "It makes sense to try it out, and the technology does obviously work. But it sounds very ambitious to me," Paul Nieuwenhuis, director of Cardiff Business School's Electric Vehicle Centre of Excellence, told the BBC. "Cost will be the biggest issue, and I'm not totally convinced it's worth it. Battery technology is increasing ... So, it's not clear there's even a need for this."
Were this plan to be implemented, it could have wider implications — for example, a self-driving electric car would never have to stop. While it's an exciting proposal, it's a long road until such technologically equipped highways would be introduced to the public.