Navy SEALs Announce They're Open to Allowing Women, Just Days After First Female Rangers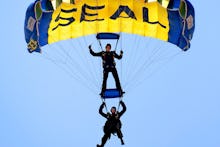 Days after two women became Army Rangers for the first time in history, Chief of Naval Operations Adm. Jonathan Greenert said his branch of the military is open and willing to allowing women into their elite force, the Navy SEALs, if they can pass the grueling training.
Greenert discussed the process Tuesday with the Navy Times, saying the Naval Special Warfare/Naval Special Operations communities assessed whether their current standards for training were acceptable and whether anyone — irrespective of gender — who can succeed in the training should be allowed into the Navy SEALs.
"Why shouldn't anybody who can meet these [standards] be accepted? And the answer is, there is no reason," Greenert said. "So, we're on a track to say: 'Hey, look. Here are the standards. Anybody who can meet them — they're gender non-specific — then you can become a SEAL.'"
Head of Naval Special Warfare Command, Rear Adm. Brian Losey, led the review of the existing ban on women in the SEALs and ultimately recommended it be lifted. Though the recommendation is yet to be officially approved, it looks likely to be accepted. 
It won't be easy. The six-month Navy SEAL training, or Basic Underwater Demolition/SEAL training, is known for its rigorous and grueling demands. BUD/S consists of three phases, including basic conditioning, diving and land warfare. Trainees are subjected to "Hell Week" in the first phase, during which time at least two-thirds of trainees quit. 
"Physical discomfort and pain will cause many to decide it isn't worth it," the Navy SEALs website states. "The miserable wet-cold approaching hypothermia will make others quit. Sheer fatigue and sleep deprivation will cause every candidate to question his core values, motivations, limits and everything he's made of and stands for."
Those who survive the training enter into an elite force tasked with some of the most complicated and high-stakes missions, including the 2011 assassination of Osama bin Laden in Pakistan. 
The recommendation to allow women into the Navy SEALs is part of a larger pattern in recent years of creating gender-equal combat roles in the military. The Air Force and Army are in the process of opening all combat roles to women, too, not to mention the historic introduction of two women into the Rangers.