Tropical Storm Danny 2015: Latest Weather Updates and Hurricane Watch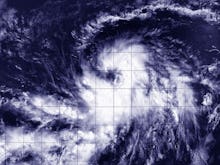 A tropical storm, which meteorologists say could reach hurricane strengths by later this week, formed over the Atlantic Ocean on Tuesday, ABC 13 reports. Officials upgraded the depression to tropical storm status and gave it a name, Tropical Storm Danny, after winds exceeded 39 miles per hour, according to AccuWeather.com.
On Wednesday morning, Tropical Storm Danny was located roughly halfway between the Cape Verde Islands off the northwest coast of Africa and the Caribbean's Lesser Antilles islands. The storm continued to march west at 14 mph, with maximum winds topping 50 mph, according to the National Weather Service's National Hurricane Center.
If it were to develop into a hurricane, Danny could strengthen to a Category 2 hurricane with wind speeds of at least 100 mph by Sunday, according to the CNN wire. To become a hurricane, a storm's winds must first reach at least 74 mph. 
The National Hurricane Center said the storm could hit the Lesser Antilles islands by as early as Monday morning. "A track across the Windward or southern Leeward islands late Monday, then into the Caribbean later next week is most likely, provided the system remains relatively weak," according to AccuWeather.com meteorologist Alex Sosnowski, reports USA Today. The storm was still about 4,000 miles from the U.S. coast in Texas on Wednesday, ABC 13 noted. 
CNN reports Danny brings the total number of named storms of the 2015 Atlantic hurricane season, which runs from June 1 through Nov. 30, to four.
Tropical Storm Ana formed off the coast of South Carolina in May, followed by Tropical Storm Bill in the Gulf of Mexico in June and Tropical Storm Claudette over the Atlantic in July.