Taylor Swift Performs Her Rare Single "Ronan" in Concert to the Woman Who Inspired It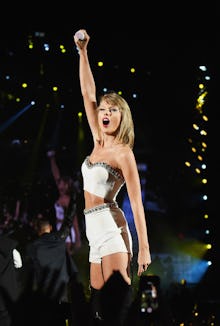 Every one of Taylor Swift's 1989 tour stops has been an epically glamorous affair. She's made headlines weekly by bringing out members of a celebrity squad that has now grown to include Fifth Harmony, Joan Baez and Fetty Wap — the phenomenon has even spawned its own hilarious parody. However, Tuesday's stop was a far more sobering and heartfelt affair.
At a concert in Glendale, Arizona, Swift made headlines playing a song she's never performed in concert before: 2012's "Ronan." Its lyrics tell the story of Ronan Thompson, a young boy who died of cancer in 2011, using the words of Ronan's own mother, Maya Thompson, who wrote about her son's illness on a blog called Rockstar Ronan. Thompson was in the crowd Tuesday night, and from the stage, Swift sent a message praising Thompson's strength. 
Swift's dedication also gave her a chance to discuss illness within her own family: The singer told fans her mother had been diagnosed with cancer back in April. 
The words Swift chose to address Thompson's and her mother's struggles should resonate for any one who's ever lost someone to illness.
"I think that in my opinion, one of the greatest things that a human being can ever do, is to go through something unbearable and then share their experience with the world. And I think, the braver you are, the more completely honest you are," Swift told the crowd, according to E! Online. 
She recognized the difficulty of sharing these kinds of stories, but thanked Thompson for her strength. "I wouldn't know half as much as I know about childhood cancer and childhood cancer research if she hadn't shared her story about her son Ronan," Swift said. "It was this account of what it was like to watch cancer take over [your] life. And since then, I've had cancer hit really close to me in my family. So because Maya's right there, I would like you to give her a round of applause, please." 
She then played "Ronan," mentioning that all the proceeds from the song have gone toward the Ronan Thompson Foundation and cancer research. Later, Thompson and her family went backstage to meet Swift and take some photos with the singer. "I still can't believe tonight. I still can't believe you did this," Thompson wrote in an Instagram caption. "This will forever be one of the most special moments of my life. Thank you @taylorswift for your beautiful heart and for never forgetting my Ro. I love you to the moon and back."
Swift shares her celebrity with fans more liberally than any other pop star, despite being the subject and object of some Twitter spats.  She's brought fans backstage at the Grammys and invited them to her SoHo mansion to listen to unreleased music. In times like this, her actions speak louder than her songs. They help bring the heartfelt messages she captures in her verses down into the real world, where they can make even more of an impact.
Tuesday, Swift touched the life of a woman who experienced a tremendous tragedy. Swift may soon have to face a similar reality, and in all likelihood her fans will be there to have her back, just as she does theirs.
Watch the full performance of "Roman" below via Streamable.
h/t Billboard