Kerry Washington Sums Up the Problem With Our "Post-Baby Body" Obsession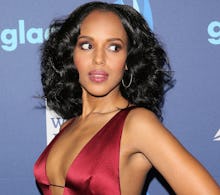 Kerry Washington is a new mom. But that doesn't mean she's planning on getting back to her "pre-baby body" anytime soon. 
In Self's September issue, the Scandal actress said she isn't here for people who encourage new mothers to get back into peak physical condition immediately after giving birth.
"I've been really focused on not being 'back' to anything, but being the best version of myself right now," Washington, who had her first daughter Isabelle in 2014, told the magazine. "My body is the site of a miracle now. I don't want to be pre-miracle."
Our culture is obsessed with women losing their "baby weight." A Google search for "lose baby weight" pulls up no fewer than 77 million results, with headlines ranging from "Better Body After Baby" to "Get Your Body Back After Pregnancy" to "How to Lose Baby Weight Like a Celebrity." Indeed, many celebrity moms seem to perpetuate the fixation, with everyone from Kim Kardashian to P!nk to Beyoncé flaunting their "post-baby bodies" after giving birth.
But Washington has a problem with the pressure society puts on women to shed their baby weight, telling Shape that she called out her manager for telling her she looked great after giving birth. "She meant it as a total compliment, but we had this great conversation where I was like, 'You know what? I try really hard not to use that language because it's not about going backward in life,'" she told Self.
Of course, there's nothing inherently wrong with focusing on health and fitness after giving birth. But considering the average woman gains 25 to 35 pounds during her pregnancy, there's a lot of pressure on female celebrities to shed all that poundage immediately. 
Like Washington said, babies are miracles, and new moms' bodies are miracle sites. But contrary to what Olivia Pope might say, a post-baby body isn't necessarily something that has to be "handled."
h/t People