Jared Fogle Had Sex With Minors, According to Child Pornography Charges Released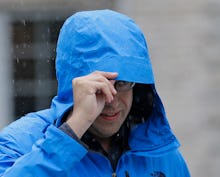 On Wednesday, the state of Indiana released an "information" announcing that former Subway restaurants spokesman Jared Fogle would face two charges stemming from allegations of possession of child pornography.
The information alleges Fogle, denoted throughout as the Defendant, traveled to New York for the purpose of having sex with a minor, which he did with at least two people, denoted as Minor Victim 13 and Minor Victim 14, and that he solicited one of his victims as a pimp to find him more underage girls. 
It also alleges Fogle consistently received explicit images from his friend Russell Taylor, who formerly worked for Fogle's charitable foundation. From the beginning, Fogle knew the subjects were minors.
Fogle is already expected to plead guilty in exchange for a plea deal. According to details of the plea reported by NBC, the U.S. government has agreed not to seek more than 12 1/2 years and Fogle has agreed to not seek less than five. Fogle has also agreed to pay 14 victims $100,000 each in restitution.
Excerpts from the information read:
The release defined "sexually explicit conduct" as including actual or simulated sexual intercourse including "genital-genital, oral-genital or oral-anal, whether between persons of the same or opposite sex."
According to the charges, Fogle also actively and approvingly sought out Taylor's services and was complicit in the criminality.  
The 12-page document, filed by the Southern District Court of Indiana, outlines that Fogle would face one count of "distribution and receipt of child pornography and conspiracy to distribute and receive child pornography" and another of "travel to engage in illicit sexual conduct with a minor and attempting to travel to engage in illicit sexual conduct with a minor."
Read the full information here: