2 Years Since 'Blackfish,' SeaWorld Is Losing Plenty of Money, but Not Changing Their Ways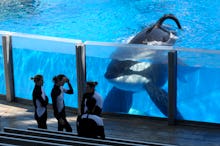 In 2013 Blackfish, the documentary about SeaWorld's treatment of orcas, also known as killer whales, revealed a dark world of questionable practices and ethics at the marine-based theme park. Specifically, it examined the death of trainer Dawn Brancheau, who was killed by an orca. Experts in the film argued such behavior is atypical of orcas and never seen in the wild. Their confinement in 20-foot-by-30-foot tanks led to a psychosis, one interviewee said in the film.
Blackfish precipitated massive financial losses for SeaWorld, which has seen its stock decline dramatically, and, despite mounting pressure and campaigns against the theme park, animal rights activists continue to be shocked by how SeaWorld treats its animals. 
So two years after the exposé, where is SeaWorld now?
Financially: The film had major financial ramifications for SeaWorld. Stock shares dropped by 45% between 2014 and 2015, according to CNN Money. In August 2014, after the company reported disappointing earnings, the stock plummeted by 33% in one day. 
SeaWorld has reportedly invested $10 million in public relations campaigns to mend their damaged reputation since the film, but profits would suggest it has not been a tremendous success. From 2013 to 2014, SeaWorld Entertainment lost 1 million visitors, lost around $8 million in revenue, let go of 300 employees and saw its CEO step down, San Diego television station KNSD reports. 
While there is no hard evidence to draw a direct causation between Blackfish and fallen revenue, the theme park began to suffer shortly after the time of the film's release. 
Did the financial hit make SeaWorld change?
Despite the dramatic impact on revenue, many have argued SeaWorld has not sufficiently overhauled their treatment of animals. 
"Most recently, last week a veterinary doctor conducted an assessment in San Antonio and Orlando. Following visits to both facilities, she had observed the [orca's] teeth were worn away from biting on concrete," Jared Goodman, director of animal law at PETA, told Mic. 
Goodman, who has been working on PETA's campaign against SeaWorld for the past five years, discussed SeaWorld's alleged planting of one of their employees in his organization to incite illegal direct action among other activists. He said it was in retaliation to end an attempt to undermine PETA's sustained campaign against the company. 
Goodman also referenced 2011 veterinary records that showed SeaWorld was administering diazepam, or valium, to sedate orcas for displaying "aggression." It took six employees to hold down one agitated orca while he was being administered diazepam, according to the document.
"None of these circumstances — stopping nursing, attempting to breed with calves or inbreeding — happen in nature and all are a result of confinement at SeaWorld," Goodman said.
Mic attempted to contact SeaWorld for comment, but they did not respond by the time of publication.
The future: SeaWorld's earnings have remained disappointing since its practices were made public and efforts to revive its reputation have not been fruitful, based on their financial reports. 
"The public has gotten wise to the cruelty of SeaWorld and no amount of PR campaigns is going to change that. People now know that animals in captivity are being mistreated," Goodman said as he explained his optimism for the closing of SeaWorld.
SeaWorld currently shows no signs of shuttering operations.