These 7 Apple Watch Apps Will Transform the Way You Use Technology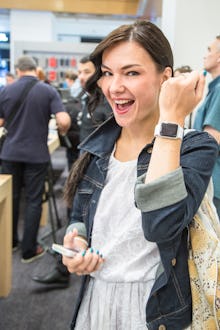 In case you're unaware, it's the future, and wearable technology is starting its quiet takeover of our everyday lives. Apple CEO Tim Cook tells Venture Beat the Apple Watch app store now hosts over 3,500 applications for Apple fans and tech consumers to explore, with new ones being added each day. 
Although some reviews for the Apple Watch note the device's limiting screen size and difficult interface, there are still plenty of apps that prove useful on the wrist gadget. Here are seven of the most innovative apps on the Apple Watch store to date:
1. Dark Sky 
Dark Sky is a hyperlocal weather forecast app that sends storm alerts and weather reports relevant to a user's location. The app is notification-based, meaning it sends updates to the wearer quickly and efficiently without bombarding the screen with too much information. 
Users can set custom alerts to display on the watch's notification widget center, and beautiful animations provide a cleaner aesthetic than other weather apps, which display slideshows or lists of weather updates.
2. Citymapper
Citymapper is an urban-transit mapping application capable of providing real-time updates to users living in or traveling through New York, the San Francisco Bay Area, Los Angeles, Chicago, Boston, Washington D.C., Philadelphia, Singapore and other cities.
The app gathers open data from each city's transit agencies. From trains to biking and even Uber, users can custom plan their route from point A to point B and find out about any delays or interruptions in service while en route, without ever having to pull out their phone.
3. Shazam 
If you've ever had to "Shazam" your way out of pretending you know a song everyone is singing when you actually don't, life got a little bit easier for you. The Apple Watch version of the Shazam app is as clean and easy to use as the phone's, without the added time between taking out a phone from your pocket and finding out the name of that song currently playing at your local bar. 
Shazam's interface is what makes this the ultimate song-finding app for the Apple Watch. Within seconds of hearing a song being played, the app will locate the match on iTunes and provide the artist and lyrics, available to scroll through entirely on the device. 
4. Yelp
Yelp boasts over 70 million reviews for restaurants, bars and businesses internationally, and when users access the app from their watch, they're shown listings for nearby food spots, drinks and new trendy locations for leisure. 
The crowdsourced review platform has a clear focus in the watch version of its app: providing the nearest spots for users to grab a bite. Yelp offers its reviews, along with accurate distance and directions and even price indicators for the food and tech-savvy individual interested in exploring their local scene. The watch app sends notifications recommending nearby hot spots, with local reviews and precise locations available, straight to the users device.
5. Headspace
Everyone needs a little meditation in their lives, and Headspace's watch app makes it easier than ever for consumers drowned in technology to "unplug" without having to actually disconnect.
Headspace uses hundreds of hours of original meditations to give users a moment of rest and relaxation, with its meditation lessons lasting anywhere from two minutes to an hour. The watch app even sends trackers and meditation reminders to users and displays a timer on the wrist that aids in remaining in a relaxed mental state without having to grab a phone and check for updates. It's the perfect app to counter the rest of the flock of news updates, notifications and appointment reminders that keep our minds running 24 hours a day. 
6. Nike+ Running 
Nike+ Running combines running and technology into a seamless fitness-tracking app, with updates on distance, colorful maps and metrics appearing across the watch as users exercise. 
The app advertises itself as "the world's greatest running community," allowing users to show off their running data with motivational leadership boards, and even lets runners invite their friends and compete against each other with challenges set to distances.
7. Trivia Crack
Because even the smartest, most innovative people from the future need a dose of technologically advanced entertainment. Trivia Crack, one of the most popular gaming apps on the iTunes App Store to date, has a fun interface similar to the phone's version of the application.
The watch version of the app can access all of the game's play options from the watch, including science, entertainment, art, geography, sports and history. The strategy game features over 100,000 questions and allows users to compete against friends online. It's a light and fun app to play on the commute home from a day filled of technology and other futuristic activities Apple Watch wearers do on a daily basis.