Camp Love Is Possible — Just Take It From These 9 Couples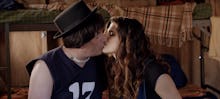 Ah, summer camp: when your days are filled with fight songs and Sloppy Joes and lanyards, and your nights are filled with stuffing your bra and making out with one of the junior lifeguards behind your bunk.  
As the campers and counselors in the Netflix series Wet Hot American Summer: First Day of Summer Camp demonstrate, young love is as much a part of summer camp as bunk inspections and trips to the lake. And while some of these relationships are obviously fleeting, some of them have staying power. Many camps feature pages of marriages among its alumni campers and staff, and the Jewish summer camp Camp Ramah even released an online dating network for its alumni.
In honor of the final days of summer, we talked to nine couples (several from the same camp) who prove that a summer camp romance can be exhilarating, romantic and embarrassing, all at the same time — and sometimes, they can last long after the buses head back down the mountain.
They met as campers, but Sara and Jeremy didn't really get to know each other until they worked together as staff members in 2007. One week into camp ("In camp time, a day is like a week, a week is like a month, etc.," Sara said), Sara kept telling her fellow counselors that someone should really hook up with Jeremy, now 27. Then they made it official (or at least, official in camp terms). 
"In the staff lounge [one] night, someone had put on some ridiculous kung fu movie but it became the perfect venue for us to sit next to each other," Sara, 26, said. "The moment I knew it was something real was when he reached out to hold my hand during the movie. Shortly after we left the staff lounge and he walked me back to my bunk. We had our first kiss under the stars, behind bunk 24." They've been together for eight years.
2. Jaya and Matt, Bucks Rock Camp in New Milford, Connecticut
After being introduced by a mutual camper friend when they were 14 years old, Jaya, 28, and Matt, 29, bonded over their mutual love of Blink-182. Although they became friends and Jaya even went to Matt's junior prom, they didn't officially hook up until the following summer.
"Once I remember making out on a picnic table and having some counselor get over a loudspeaker and tell us to cut it out," Jaya said. "We thought we were really cool for that, but years later we found out everyone else was smoking pot and having sex in the woods late at night, so we were pretty tame compared to that." They got married in 2014.
3. Arielle and Ben, Camp Ramah in the Poconos
Arielle's grandmother already knew Ben and his family when Arielle told her she would be working with him at camp that summer. Arielle and Ben quickly became friends, and one day, Arielle decided she wanted to be something more. So she did what no camp counselor should probably ever do: She tried a pick-up line a camper had told her. 
The joke, as Arielle, 25, remembers it, is as follows: "I went to the carnival and got hungry, so I ordered a hot dog and ate it. But I was still hungry, so I got another hot dog and it was this big (motioned with my hands), but I was still hungry. So I got another one and it was this big (motioned again even larger). But I was still hungry, so I got one more hot dog and it was this big (motion with my arms and put my arm around his neck) and I took a big bite chomp (kiss).'"
Apparently, Ben, 28, was into it. They got married in 2013.
4. Kelly and Matt, Camp Fitch YMCA in North Springfield, Pennsylvania
Both Kelly and Matt attended the same camp as kids, but their paths didn't cross until they became counselors a few years later. They played music together at campfires, and their romance blossomed, although they kept it a secret since dating at camp was a bit taboo.
"One of my job assignments was baby-sitting for a family in the evenings during our family camp week. Matt would come and sit outside the tent with me after the kids had gone to sleep," Kelly, 40, said. "We would hold hands and star gaze — it was all very storybook magical."
Matt, 43, eventually proposed on a cliff near the spot where they first held hands, and they married at the camp's outdoor chapel. They now live and work full time at the camp with their two daughters.
5. Michele and Adam, Camp Ramah in the Poconos
In addition to attending middle school, high school and synagogue together, Michele, 27, and Adam, 28, attended camp together both as campers and counselors. They started dating a few months before heading off to work at camp one summer, and tried to keep their relationship a secret — but it didn't last long.
"At an all-camp staff meeting, a counselor on my staff who also was a former camper of Michele was puzzled as she pulled off a long brown hair that had been clinging to my beard," Adam said. "The jig was soon up." 
Four years later, the couple is still happily married. "We can say for certain that we are a couple because of camp," Adam said.
6. Jenifer and Jeremy, Camp Michigamme in Michigamme, Michigan
During their first year at camp together, Jeremy, now 44, was a lifeguard, and Jenifer was a camper taking the swim test. 
"My impression of him was that he was a super cute and funny lifeguard," Jenifer, 36, said. "Alas, I was a 10-year-old camper, so the only thing that distinguished me from the other hundred campers was that I was the [camp] dean's daughter."
They started officially dating six years later, after Jenifer graduated high school. They eventually got married at the camp chapel, serving guests camp classics like peanut butter and jelly sandwiches.
7. Sarah and Jake, Camp Ramah in the Poconos
Sarah and Jake first met when Sarah delivered a break-up note to him from her friend, who was dating Jake at the time. A year later, Jake asked Sarah to be his girlfriend. The 13-year-old campers shared their first kiss next to Sarah's bunk.
"My bunkmate Denise stormed through the bunk through the front door screaming, 'Guys, guys, I just saw Sarah kissing Jake,'" Sarah said. "My friends fell to a hush and parted like the Red Sea to reveal me standing behind them. Denise came up to me and said 'I saw him kiss you!' and I said after a moment, 'Well... did it look OK?'" She said her nickname on the bunk plaque that summer was "Sarah 'Did it look OK?' Waxman."
That inside joke followed the 30-year-olds to their wedding last December, when her bunkmates created a tableau of their first kiss during the horah. 
8. Samantha and Ben, Camp Laurel in Lebanon, Connecticut
Samantha, now 22, met Ben, 27, at Girl Scout camp, where they were both staff members. While she was initially shocked to see a boy there, they later clicked after talking in the dining hall. 
"The first time we 'hooked up' at camp was after he held my hand on the red couch that was in our staff lounge. Then he took me back to my cabin and we kissed not once but twice. After that we began to sneak around to see each other and we even wrote love letters," Samantha said. 
9. Lauren and Max, Camp Ramah in the Poconos
Lauren, 28, and Max, 27, started attending camp together as teenagers, and became friends when they started working as staff members. They reconnected three years ago at a dinner with other camp friends and have been together ever since.
"I think that camp is such a tight-knit community and when you spend a prolonged period of time there you get extremely close with people," Lauren said. "Those relationships are what keep you connected to camp long after you are a camper or a staff member."