6 Reasons Couples With Kids Are Deciding Not to Get Married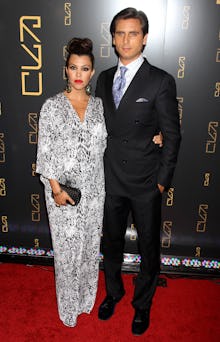 Kids are really friggin' expensive. So are weddings. It makes sense that, when confronted with the prospect of paying for diapers and baby food or for tuxedos and caterers, a growing number of new or soon-to-be parents are opting to skip the ceremony altogether and raise their kids out of wedlock. Even the New York Times, reigning champion of the most out-of-touch ideas about what makes something a trend, has called unwed parenthood "the new normal." 
Mic spoke with several unwed parents about why they decided to start families together before tying the knot, as well as how they feel about marriage now that they've had kids. Here's what they had to say.
It's usually a question of timing. Unintended pregnancies happen. And although there's still a great deal of stigma around unplanned parenthood, pregnancies that were once viewed as "illegitimate" are now more likely to be seen as merely inopportune. But instead of rushing to have a "shotgun wedding," more and more couples are pursuing "shotgun cohabitation" instead. 
"My partner and I were in a long-distance relationship, and I happened to get pregnant," Lien, who has a young son with her boyfriend, told Mic. "With the timing, waiting [to get married] was right. We've been dating for four years and we're still not married yet. For us, it's just about timing." 
Lien says marriage simply wasn't a priority for her or her partner, though commitment was a prerequisite. "I moved in with him, and it just felt like we were married already," she said. "The marriage part is still happening, it's just delayed because we already feel like we're married." 
Getting married isn't the only way to become an adult. Although demographers predict many millennial parents will eventually get married, our generation has come to view the institution of marriage a bit differently than our parents and grandparents did. While marriage used to be a way out of the family home and into a life of one's own, we're now in the era of emerging adulthood; getting hitched is no longer the only viable option.
But as marriage is increasingly reserved for wealthier classes, many young adults without the means to marry seek alternatives to becoming Real Grown Ups. And as Johns Hopkins sociologist Andrew Cherlin told the Atlantic, having a baby can seem like the best way to do that, especially for low-income Americans. "This is a way a woman or man can be a successful adult when all other paths are blocked," Cherlin said.
Previous relationships can make things more complicated. For Lien and her partner, there's always been a major factor to consider as they plan for their future together: her daughter from a previous relationship. Although she and her boyfriend have achieved success at blending their family, Lien says it was more important to her to hold off on a wedding until after her son was born — and until her daughter finished school.
But other children aren't the only reason partnered parents might wait to marry or simply opt out altogether. As Andrew, a father of two boys who also adopted his partner's daughter this year, told Mic via email, his ex-wife was the primary obstacle to a second chance at marital bliss.
"My current wife and I actually discussed getting married earlier, but it was contingent on both of our divorces being finalized," Andrew said. "And for my sons, it was important to me that my wife be allowed to be involved in their educational and medical decisions." 
What economic benefits? For the more cynical among us, "tax breaks" are often touted as one of the more compelling reasons to get married, as opposed to just moving in together and calling it a day. But several of the unmarried parents Mic spoke with agreed: There's not as much economic motivation to tie the knot as people often think. 
Plus, marriage can always end in divorce — and that's really, really expensive. But even divorce doesn't preclude raising kids together. Rosie, who has been with her ex-husband on-and-off for nearly two decades, told Mic that she and her partner have been back together for years, and are happily raising their two children in Los Angeles. The prospect of getting a tax break wasn't enough to convince her to re-tie the knot. 
"I don't really see the benefit in it," Rosie said. "We'll probably never get remarried."
Kids don't really know the difference. Many of the couples who spoke with Mic did express interest in getting married eventually, often for the sake of their kids. But being married already wasn't considered the only symbol of commitment. 
As Lien explained, for the time being, her son is too young to know whether his parents are married or not. All that matters is that they're together. "Once you're together for that long, you kind of just make that commitment," she told Mic. "And I think it's good for my son to realize that his parents are together and married and committed; we're not just dating." 
Rosie told Mic that her kids don't even know their parents aren't married. "We never sat down and told our kids we weren't married," she said. "We've never pretended to be married. I think they assumed we were." 
"Being married" doesn't always mean "being happy." As our conceptions of marriage and family grow and change, so do people's expectations for their partnerships. Marriage isn't just for making babies; as the writer Chimamanda Ngozi Adichie put it, marriage can be a great source of "joy and love and mutual support." Increasingly, that's what couples want it to be. It might seem better not to mess with a perfectly good relationship, especially when you're already doing just fine raising kids together. 
"There's less pressure [not being married], but there's also an attitude of, 'We are together because we want to be, not because we have to be,'" Rosie said. "I don't feel like either of us are looking for security in a legal marriage. I think that my partner and I are just happy being together, and we're secure in that decision. I don't think it makes us anymore solid, being married."