Lane Bryant's "Plus Is Equal" Ad Are the Best 2 Pages of Any September Fashion Magazine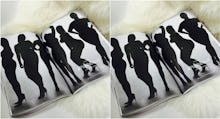 The all-important September issues of fashion magazines are sliding into our mailboxes and nestling up on those newsstands, with all the finest models, celebrities and fall clothes gleaming from their pages.
But if you're only going to tackle one magazine, and only skim a few pages, we recommend two pages in Vogue — specifically, one subtle advertisement spread. As Yahoo Style reported, the pages feature six silhouettes, of who appear to be plus-size models, with just a date, a #PlusIsEqual and a sentence: "It's time for change." 
Turns out the ad is for Lane Bryant, as the retailer confirmed with a tweet. It's part of the plus-size company's #PlusIsEqual campaign, which is all about equal representation and visibility for women in fashion. 
"We believe all women should be seen and celebrated equally. It's time to unite our voices," reads the campaign website, which quietly debuted this week. The site includes statistics about women's attitudes toward the retail industry, and how many plus-size women feel adequately represented (spoiler: Ninety-two percent don't). 
The presence of the understated Lane Bryant ad in Vogue's big new issue proves exactly why. As Racked put it, "Vogue's September issue is 832 pages. Only two have plus-size models on them." 
A plus-size movement has been brewing for some time, getting attention in fits and bursts from the modeling industry, from magazines, from retailers and from fashion enthusiasts themselves. But there hasn't been much major change if the only place to see models in this fall's magazines bigger than, say, a size 6 is in a plus-size clothing store ad. 
As the Huffington Post recently found, not a single fashion spread in seven major magazines featured plus-size women in their September issues. None.
We have a feeling the upcoming #PlusIsEqual campaign will be the latest effort to change that.
h/t Popsugar