Ashley Madison Hack Reveals Josh Duggar Owned a Paid Account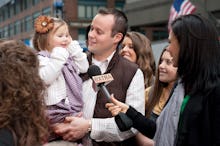 Josh Duggar, a former Family Research Council executive and star of TLC's now-canceled 19 Kids and Counting, reportedly owned and operated a paid Ashley Madison extramarital dating account.
The information was revealed as part of a massive data leak in which hacker released a massive file of information containing as many as 32 million email addresses.
Duggar had previously resigned his position on the FRC after he admitted in May to sexually molesting a number of underage girls over a decade ago, including his own sisters.
A credit card in Duggar's name and connected to his grandmother's address was used to pay "a total of $986.76 for two different monthly Ashley Madison subscriptions from February of 2013 until May of 2015," reports Gawker.
The first account, which was opened in February 2013, listed Duggar's birthday as Feb. 3, 1988, while the second, opened in July 2014, listed his birthday as March 2, 1988 — one month and one day from his real birthday of March 3, 1988, respectively. 
According to Gawker, Duggar purchased a $250 "affair guarantee" that promised him money back if he didn't "have an affair within three months."
His profile also listed he was seeking the following:
"Conventional Sex," "Experimenting with Sex Toys," "One-Night Stands," "Open to Experimentation," "Gentleness," "Good With Your Hands," "Sensual Massage," "Extended Foreplay/Teasing," "Bubble Bath for 2," "Likes to Give Oral Sex," "Likes to Receive Oral Sex," "Someone I Can Teach," "Someone Who Can Teach Me," "Kissing," "Cuddling & Hugging," "Sharing Fantasies," "Sex Talk."
His second profile read, "Let's just see where this goes! I'm looking to have a steamy affair. I want to have a good time with someone who is passionate... and see where it leads!" 
There is currently no evidence Duggar ever successfully performed any extramarital affairs.
The accounts were active during the same time period Duggar was advocating against same-sex marriage as a senior executive for the socially conservative Family Research Council. They were also active during the same period Duggar was taking to Facebook to apologize for the molestation allegations, saying he was "so very thankful for God's grace, mercy and redemption."
In mid-July, 19 Kids and Counting was officially canceled by TLC. Duggar also left his position at the Family Research Council following the release of original police reports on the alleged sexual assaults.