Here's What the Free the Nipple Movement Has Really Accomplished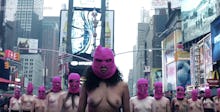 The average American child sees more than 200,000 acts of violence and 16,000 murders on TV before they turn 18, according to the American Psychiatric Association. But the things deemed far too scandalous and damaging for them to witness? Women's nipples. Just in the U.S., it is completely illegal for women to appear topless in three states and ambiguous laws in other states prohibit it in effect, according to Time. 
One woman, however, has been waging a war on this sexist double standard. In 2012, filmmaker Lina Esco launched a movement targeting sexist public nudity laws called Free the Nipple, while working on a comedic film of the same name and subject matter. The effort caught on: As Esco wrote in a 2013 Huffington Post essay, "in a case of life imitating art — or more specifically, I like to think, art catalyzing civil, civic action," topless women, activist groups and graffiti artists began to take action in New York City, "waging cultural war for our freedom."
This Sunday marks Go Topless Day. In the years since she began her campaign, what exactly have Esco and participants in this movement accomplished?
Nipples are (almost) fair game for social media: In 2014, Facebook lifted its ban on images of breastfeeding — but failed to extend the policy to include women's nipples in other contexts. 
"When I started my online campaign, Facebook and Instagram banned the photos of topless women that were taken on location, faster than we could put them up," Esco wrote in 2013. "Why can you show public beheadings from Saudi Arabia on Facebook, but not a nipple? Why can you sell guns on Instagram, but yet they will suspend your account for posting the most natural part of a woman's body?"
Feminist writer and activist Soraya Chemaly spearheaded a campaign that resulted in participants sending more than 60,000 tweets and 5,000 emails opposing the inequitable way images of women's breasts are regarded.
"Women's breasts are not the problem," Chemaly told Mic in May. "Sexual objectification is the problem. There's a difference between sexualization and sexuality. Breasts don't hurt children, breasts feed children, and it's the sexualization of women's bodies that's actually hurting children the most."
Instagram has yet to follow suit, but activists are working on it: In fact, in 2014, artist Micol Hebron created a rendering of a male nipple which she encouraged women to use on Instagram to cover their own nipples to draw attention to just how ridiculous this standard is — an effort that gained renewed traction last month.
Celebrities have embraced and publicized the cause: Plenty of public figures have also taken up the charge, especially when it comes to social media. Miley Cyrus was one of the first celebrities to help elevate the cause. In 2013, she tweeted a photo of herself holding the image of a nipple over her eye and tagged Free the Nipple's account. She has continued to support the campaign as well, posting topless photos to Instagram (which were, of course, removed).
Scout and Rumer Willis have also notably supported the effort. In 2014, Scout Willis walked through the streets of New York City topless after Instagram removed one of her photos. 
"Everyone says the policy has to be uniform," she told the Village Voice in 2014. "Apparently, though, it's OK for women to be degraded and hypersexualized, but it's not OK for them to be proud of their bodies."
Rumer Willis supported her sister by attending a Free the Nipple fundraiser soon after. "I'm very proud of her for standing up for what she believes in," she told Us Weekly, even sporting a T-shirt featuring bare breasts.
Other celebrities, including Chelsea Handler and Chrissy Teigen, have joined the cause by exposing their own nipples on social media. Even Orange Is the New Black actor and male feminist Matt McGorry got on board.
"Part of the stand of #FreeTheNipple is about the right of women to claim what their breasts and nipples mean to THEM, and not have that be defined by how men and much of society decides what their boobies mean," McGorry wrote on Instagram.
People across the country are organizing and protesting in their daily lives: In April, a group of protesters successfully lobbied for Los Angeles' Venice Beach to allow women to sunbathe topless. On May 23, more than 100 students gathered at University of California, San Diego, in support of Free the Nipple. Earlier this month, 70 people protested in Springfield, Missouri, in the name of the cause. And there's still more to come: Free the Nipple advocates plan to sit topless on Hampton Beach in New Hampshire this weekend.
Some may even wear TaTa tops — a "bikini top fashioned after the female body, which features a nipple on each cup," which its creator invented as a way to support and perpetuate the Free the Nipple movement. One Belmont University college student recently did and even resigned from her sorority in support of the cause.
"The real conversation is about equality," Esco told Mic in an episode of Flip the Script. "This is what we had to do in order to pave the way for equality to be talked about. There is no way the wheels would be turning unless something was going to spark it, something controversial. And that was Free The Nipple."
Clearly, the conversation has been sparked. It seems likely that it will escalate into a full-on fire.