Ashley Madison Leak: Here's What We're Learning From the Stolen Data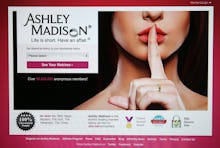 Stolen data from the extramarital affairs service Ashley Madison suddenly became available on the Dark Web in a data dump nearly 10 gigabytes large on Tuesday night, Wired reports.
The leak came several weeks after news broke in mid-July that an online network of hackers going by the name the Impact Team claimed to have stolen millions of users' private data and had warned they would expose "customers' secret sexual fantasies, nude pictures and conversations and matching credit card transactions, real names and addresses and employee documents and emails," if the company didn't shut down their websites completely, computer security writer Brian Krebs reported at the time.
This week, those hackers have made good on their promise, and here's what we know so far.
Anyone can access the data: On ashley.cynic.al, anyone can input an email address to determine if it was part of the leak and what, if any, information had been collected. 
There's a whole lot of info: The Verge reports the searchable data from 36 million accounts and 9 million credit card transactions includes information such as users' first and last names, height, weight, profile name and what they are looking to do with fellow Ashley Madison users. 
A lot of big names were a part of the leak: According to the Daily Beast, nearly 10,000 official government emails were linked to profiles associated with the hack, including addresses from the National Security Agency and the Department of Justice, although the information remains unverified. The site also notes official email addresses from the British and Australian governments are included in the data dump. 
Some notable names are included in the attack as well, like former Family Research Council executive and star of TLC's now-canceled 19 Kids and Counting Josh Duggar and a newly-elected female representative of the Scottish National Party.
Profiles existed all over the world: While much attention has focused on stateside adulterers, the data has revealed large numbers of active Ashley Madison profiles were being operated across the globe.
The numbers indicate cheaters tend to flock to São Paulo, New York and Sydney, as the highest number of profiles came from those three cities. 
Victims are already speaking out: Users affected by the attack on Ashley Madison's internal servers, as well as their exes or current spouses, are already talking about the experiences they've had since the information was revealed.
"This will wreck my marriage," one Kentucky man tells Fusion. "The thing about this leak is that it's a public shaming, it would be different if she walked into a hotel and found me with someone else. But I'm talking to a reporter in California who knows my name and address and that I've used a dating site for married folks. And I'm not a public figure. I'm a private person."
Ellen Cushing, a BuzzFeed News reporter, spoke to her ex via text message after finding his email in the database. "Did you go on while we were together?" she writes to him in one message. "Yea. I don't even really remember. I'm sure I cruised some profiles, but did nothing," he replied.