Washington Wildfires 2015: Updates and Photos of "Hell Storm" That Killed 3 Firefighters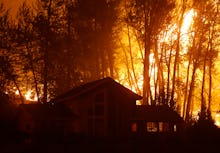 A series of fires burned through the night in north-central Washington state Wednesday killing three firefighters and injuring four others, Gov. Jay Inslee said in a statement.
"They gave their lives to protect others," Inslee said in the statement. "It was their calling, but the loss for their families is immense, and I know the community will come together to support them."
The firefighters likely died after their vehicle crashed and caught fire as the flames raged in Okanogan County, the Associated Press reported.
None of the casualties' identities were immediately known, and it was unclear whether the four injured firefighters were involved in the crash, according to the AP. At least one of the injured individuals was taken to Harborview Medical Center in Seattle and was in critical condition.
Residents of nearby small towns Twisp and Wintrop were evacuated, CNN reports. Okanogan County Sheriff Frank Rogers told KXLY 4 of Spokane that the wildfires were like a "hell storm." 
"The fire was racing and the winds were blowing in every direction," he said. 
That fire near Twisp and Wintrop, located in the Methow River valley about 115 miles northeast of Seattle, was just one of several blazes in the region. To the east, about 200 people were evacuated from Conconully because of a large group of fires that spanned about 50 square miles, according to the AP. 
Further south, a fire raged near the resort town of Chelan as it burned through 108 square miles of wilderness, the AP reported.
Wildfires threatened at least 11 counties and four tribes as of Wednesday, according to KXLY 4. The blazes had burned more than 235,000 acres and at least 50 homes, the station reported.