Nicki Minaj Loves Her New Wax Figure, but It's Bringing Out the Worst in People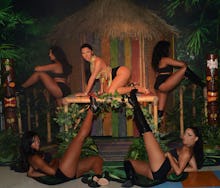 Nicki Minaj's "Anaconda" may have been slighted by the MTV Video Music Awards, but the now-iconic video has been immortalized in a different way: wax.
On Aug. 4, Madame Tussauds unveiled a wax statue of Minaj crafted in the boldest pose possible. Instead of depicting the rapper and pop star wearing a colorful wig and singing with a microphone, the reported 20 artists who spent six months crafting the statue chose one of the defiant poses she struck for in "Anaconda" — one of her on all fours with a defiant look. Minaj absolutely loved it.
"They had the dancers ready and everything ... so iconic. Thank u," Minaj wrote along with an Instagram video of the event. Billboard notes Minaj is the first female rapper to have a figure at the famed wax museum. 
The pose captures everything "Anaconda" tried to convey: the fierce affirmation of female sexuality and a powerful portrait of body positivity for curvy women. However, since the statue's debut, all people seem to have done is disrespect it. 
Minaj reposted one of the first cheeky pictures on Instagram, dismissing its absurdity in her caption, which read, "Naw bitch hold on," with a long train of laughing emojis:
But visitors' advances got far more aggressive as days went by.
Madame Tussauds is not happy. The museum issued a statement on Twitter on Tuesday about the flood of inappropriate pictures that have been taken with the figure in the course of two and half weeks. 
"It is unfortunate that this visitor decided to behave so inappropriately and we apologize for any offense this has caused," the museum said. (Entertainment Weekly reports the museum seems to be referencing the above picture.) "We do have staff monitoring guest behavior in the attraction and do our utmost to ensure our wax figures are treated respectfully, but on this occasion clearly one of our hosts was not present." They're currently "redesigning" the display so that people won't be able to take pictures like those above again.
Unfortunately, some predicted this reaction: As BuzzFeed reported Tuesday, rapper Azealia Banks tweeted a warning when she saw the pose Tussauds had chosen:
Then on Tuesday, when the pictures started to buzz around the Internet: 
This is why we can't have nice things. Minaj's statue has created a stir similar to what the promo shots of her video prompted when they were first released. At the time, critics slammed her for pushing "hypersexualized" images on impressionable youth. Minaj fired back, arguing that she and black women in general are punished unfairly for the sin of loving their bodies, and that what threatened people was not her setting a "bad example," but the idea of a black woman owning her sexuality. 
To prove her point back then, she posted a series of scantily clad white bodies to Instagram with the captions "Acceptable."
And her own, captioned "Unacceptable."
Our culture doesn't seem ready to let Minaj or any black woman own their sexuality without trying to censor it — or mount it, in the case of the wax figure. Madame Tussauds and Minaj tried to make a statement about body positivity, but that seems to have gone over some viewers' heads. Once again, the only statement that is getting across is that people view black bodies as their personal property, and that they don't mind being crude to prove it.