This Man Is Busting Female Masturbation Taboos by Pairing Classic Art With Vibrators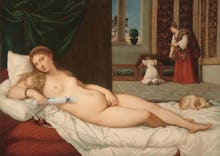 Your next field trip to the art museum just got a little bit naughtier. 
Behold: The Hitachi Magic Wand Throughout Art History, a Tumblr that marries classic works of art with the Hitachi Magic Wand vibrator.
Pairing fine art with fine orgasms: According to the Tumblr's creator, who wishes to remain anonymous, the goal of the blog is to celebrate and destigmatize female masturbation by marrying the image of the iconic Hitachi Magic Wand vibrator with recognizable works of art.
"The blog combines two things that many love: fine art and the Hitachi Magic Wand," he told Mic in an email. "Both of these have and continue to change lives."
Though originally marketed as a "massager," the Hitachi Magic Wand was popularized in the 1970s by sex educator Betty Dodson as a straight-up vibrator, thereby sealing its fate as the key ingredient in women's clitoral orgasms for years to come. 
Indeed, anyone who's ever used a Magic Wand for themselves (or just seen the Rabbit episode of Sex and the City) knows that the life-changing effects of a good vibrator cannot be understated. This is likely why 2009 data from Indiana University reported that 53% of women enjoy using such devices for self-stimulation.
"I think [the Magic Wand] is a huge part of more lives than many will admit," the creator told Mic. "It's almost a sacred object in and of itself, a cultural touchstone that doesn't get a lot of mainstream airplay even though there must be a billion of them out there.
"So it deserves to be elevated to a higher level, which putting it together with fine art does."
The project is just as much about the art as it is the vibe. In addition to paying homage to the unsung heroism of the Hitachi Magic Wand, the creator of the Tumblr also wanted to pay his respects to the classic artworks by Michelangelo, Gustav Klimt and Jean-Auguste-Dominique Ingres, among other artists.
"Fine art seems more and more to take the backseat in a world of digital images, and I think many people forgot how technical, beautiful, and sexy it is/was," the creator told Mic. "So posting these paintings is a way for me to say, 'Hey, check out these amazing images you haven't thought about for a while!'"
So while we might want to thank the creator of the project for combining our dual appreciation for art and masturbation, like any true artist, he's humble about his creation.
"Praise for these images should be directed to the painters of the original masterpieces (I'm just the vandal in this case)," he said. "And to the creator of the Magic Wand."