'Ballers' Is the Most Surprisingly Diverse Show on Television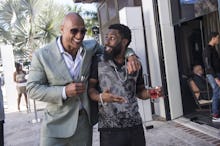 As Ballers closes out its first season on Sunday, it finishes as a massive hit for HBO. The show has been celebrated by critics — the Hollywood Reporter hailed Dwayne "The Rock" Johnson as giving a "star performance" — and fans — the premiere was HBO's most-watched half-hour show since 2009 — alike.
Yet for whatever reason, in a year where so much of the conversation about television has focused on diversity, Ballers has been largely left out. Make no mistake: Ballers has one of the most diverse casts on television.
The series focuses on the artist formerly known as The Rock's Spencer Strasmore, a former NFL pro turned money manager, and his close circle of friends. In many ways, Spencer is your traditional prestige cable anti-hero. He has more than a smattering of darkness to him — he's, at least at the show's outset, abusing prescription medication — and he's exploiting his friendships with wealthy athletes to further his career.
Take a look around the television landscape, however, and one thing becomes clear: He's virtually the only non-white anti-hero to be found, at least among men. (Viola Davis' Annalise Keating on ABC's How to Get Away with Murder and Kerry Washington's Olivia Pope on ABC's Scandal are two oft-cited examples.)
The rest of the main cast is rounded out by John David Washington's live wire wide receiver Ricky Jerret, Omar Benson Miller's listless former lineman Charles Greane and Donovan W. Carter's nice guy rookie Vernon Littlefield. The only white guys are Spencer's boss-cum-business partner Joe (Rob Corddry) and superagent Jason (Troy Garity). Notably, the former is the almost always portrayed as a buffoon and the butt of jokes.
As networks diversify their schedules in an attempt to appeal to a wider audience, for-pay networks have largely dragged behind. Consider HBO's current slate: Game of Thrones, True Detective, Girls, Veep, the list goes on. Those casts look about as white as a J. Crew store on Martha's Vineyard.
Ballers' success is thus especially encouraging. If it requires a successful coal mine canary to warrant more diversity on cable, as the entertainment industry seems to think, then Ballers provides 8.3 million reasons why a Benetton cast is a good idea.
Then again, none of this should really be a surprise. The unequivocal winner of the 2014-2015 television season was Fox's Empire. Elsewhere, ABC leaned into the dominance of Shonda Rhimes, handing her the entire Thursday night roster, the network embraced its family comedy identity (this is the home of Modern Family after all) and found success with two new, non-white family comedies: Black-ish and Fresh Off the Boat.
As a result, ABC finished the season as the only network to boost both its overall audience and the ever crucial viewers under 50. Leaving out sports, ABC actually tied with CBS for first place in the past year with viewers in the 18-49 demo.
All of this is a long way of saying diversity not only matters, it works. So why haven't you heard much about Ballers? You likely weren't the only one dismiss a show billed as "from the creators of Entourage" summarily.
Then there's the show's purported woman problem. The show is absolutely not feminist — and it doesn't even come close to passing the Bechdel test — but it does treat its female characters better than Entourage typically did. Female characters like Charles' wife Julie (Jazmyn Simon) and Spencer's girlfriend Tracy (Arielle Kebbel) have their own agency. They just don't have their own storylines.
Julie serves as Charles' rock. In an episode where she finds him at a "fun house" full of drugs and scantily clad women, he is ultimately grateful to her for rescuing him. In another episode, Spencer must confront a woman attempting to blackmail one of his clients. Yet at the end he's revealed to be the bad guy, having misled and dumped the woman years earlier. 
This is not played as the crazed-ex-lover-seeks-revenge story we've all seen hundreds of times before, but as a teachable moment for Spencer, to reflect on the sins of his past. There are still some missed opportunities — Spencer's girlfriend is a sportscaster, and yet almost never interacts with anyone other than her boyfriend at home. So it's not The Feminine Mystique, but the women of Ballers are far more than hollow shells.
Ballers has already been picked up for a second season. The first season did what any good premiere sets out to do: It set up a world and allowed its characters to wiggle around in it. Hopefully in the second season, it can stretch out a little and play with its own format, as only ensemble shows can do. 
After all this time we spent complaining about the demise of True Detective, there was a gem — or, rather, a Rock — right under our noses.
The Ballers season finale airs Sunday at 10 p.m. on HBO, as well as streaming services HBOGo and HBO Now.