Josh Duggar's Alleged OkCupid Profile Is Proof of His Hypocrisy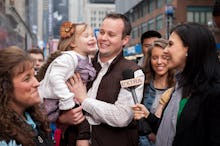 Former 19 Kids and Counting star Josh Duggar was once again dragged into controversy Wednesday when details emerged he maintained two paid accounts on the extramarital dating website Ashley Madison. The Canadian-based company was the target of a massive hack in July that saw millions of users data disclosed.
That same day, Gawker also reported Duggar's Ashley Madison profile name "joesmithsonnwa" appears to be linked to an account on the dating website OkCupid. Though the photo is not of Duggar (it seems to be the result of a Google search for "random guy"), in over 18 pages of the website's compatibility section, the alleged Duggar's Christian faith, right-wing politics and what appears to be a considerable libido come through.
If the account is Duggar's, the former Family Research Council executive and reality star was candid and to the point about what he was looking for on the dating site.
In other posts, the beliefs of a conservative Christian were more evident. 
There were also these charming nuggets too. 
Duggar and his family were yanked from TLC in July after revelations Josh had molested a number of women, including his younger sisters, several years ago. The family, however, is planning to return to the small screen this month in a one-hour TLC special focusing on child sexual abuse called Breaking the Silence.
Duggar's alleged OkCupid profile was deleted around 10:30 a.m. EST Thursday.
On Thursday afternoon, Duggar published, then quickly retracted, an apology saying, among other things, "I have been the biggest hypocrite ever. While espousing faith and family values, I have secretly over the last several years been viewing pornography on the internet and this became a secret addiction and I became unfaithful to my wife."
Aug. 20, 2015. 2:51 p.m. This story has been updated.