Patrick Stewart's 'Blunt Talk' Is a Funny, Frank Look at the Incompetence of Cable News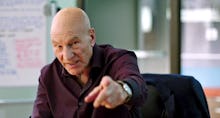 Cable news is a mess. If it's Fox News or MSNBC, coverage is usually too opinionated to ever really be called "news." If it's CNN, they're missing covering major events and chasing coverage of missing planes. If it's anyone else, no one's watching. Sorry, Al Jazeera America.
Yet for better or worse — almost certainly the latter — cable news remains the dominant force in modern media. It still captures eyeballs and acts as a sort of shorthand for media generally. When "the media" screws something up, look to CNN, Fox and MSNBC to find your culprits. This makes them prime targets for parody, a format Stephen Colbert perfected on The Colbert Report for 10 seasons.
Now that Colbert is joining the ranks of traditional network late night, however, we need a new parodist of cable news' failings. Enter Patrick Stewart and his new Starz sitcom Blunt Talk.
Blunt Talk tells the story of Walter Blunt, an unpopular and washed-up newsman just trying to do the best job he can. Unfortunately, he and his team — a great ensemble of actors led by two-time Oscar nominee Jacki Weaver — are pretty terrible at what they do. They see themselves as heroes; Stewart even told Mic Blunt "would like to be Anderson Cooper." Yet they fall far short.
"As the 10 episodes unfold, you find out so much more about these people," series star Adrian Scarborough told Mic. Scarborough, who's previously primarily worked in English media, plays Blunt's valet Harry, a Jeeves-esque character. "They're utterly human, full of foibles and oddness, just like real human beings are."
The team survives by the skin of their teeth, however. Blunt, after being caught in an intimate moment with a transgender prostitute in the pilot, conducts a bizarre interview with himself to earn his redemption. It becomes such a spectacle that he's suddenly invaluable to the network. He and his team repeatedly fail despite their best efforts.
Series creator Jonathan Ames told Mic he started the show from the personal story, only adding the cable news host element later. Part of this, it would seem, would be to create a cast of characters interesting enough for any kind of setting.
"Walter's aware of this. He says in episode eight that cable news is probably going to go the way of the newspaper," Ames said. "But cable news is gonna hang in there for a while yet. People still reach for it in big moments, elections, things like that."
Still, though there is inherent humor in seeing Stewart as a bumbling Piers Morgan-type, the show doesn't lean on that frame too heavily. Blunt Talk's best qualities are mostly unrelated to satirizing cable news. The storytelling is so much franker than expected. Their incompetence is incredibly human, their flaws even moreso.
Most impressively, the show is incredibly sex-positive. Blunt's connection with a transgender prostitute is more about emotional intimacy than anything else, shying away from making a trans woman an easy joke. Weaver's character Rosalie is kinky, with her fetishes laid bare. When was the last time a 60-something actress played a woman with an unusual sexual appetite on a sitcom?
"When we're telling stories about ourselves and our neighbors and our acquaintances, it's important we be as truthful as possible," Weaver told Mic. "If that involved being honest about people's foibles and faults and flaws, then that can only be a good thing."
Thanks to the wonderfully human (and quite funny) writing, plus a stellar ensemble, Blunt Talk is surprisingly good. With Stewart's star power, it could be a hit for Starz, especially considering it's already gotten a second season. Each episode improves on the last — by the end of this season, we could be looking at TV's next great comedy.
Blunt Talk premieres Saturday at 9 p.m., but the pilot is already available to stream on Stewart's Facebook page.