"Tell Your Friends" Lyrics: Check Out the Weeknd and Kanye West's Newest Collaboration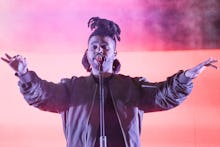 The latest single from Canadian singer Abel Tesfaye, better known by his stage name The Weeknd, is a Kanye West-produced song titled "Tell Your Friends."
Weeknd debuted the new song, which will appear on his upcoming and highly-anticipated second album, Beauty Behind the Madness, during a live performance at Drai's nightclub in Las Vegas on Tuesday, according to Rap-Up. 
"We are not the same I am too reckless," Weeknd sang on a recording he played over the venue's PA system, according to Radio.com. The song's full lyrics are available on Genius. "I'm not tryna go in that direction/ These niggas they been doing too much flexing/ But they about to follow my intention/ And I ain't got no patience, no more testing/ I do shit how I want, don't need no blessing."
Some people watching the Weeknd's Vegas performance took to social media to post videos of the singer's latest debut. 
"XO niggas, ain't nothing to mess with," the track continues. "Nobody stopping us, cause we been destined/ And everybody round you is so basic/ I'm never rocking white, I'm not a racist."
Check out the full lyrics of "Tell Your Friends" here. 
The professional relationship between Tesfaye and West hasn't been limited to the recording studio. West recently styled the Canadian artist for a photo shoot with GQ. "I really felt like he targeted someone like me," Tesfaye told GQ. "It relates to my story. Kanye is such a great friend of mine as well, when he asked me I couldn't say no. It was the least I could do."
He's also given fans several singles over the past year, including "Can't Feel My Face" and "The Hills." Beauty Behind the Madness is expected to drop on Aug. 28, according to USA Today. 
The artist took to Twitter this week to promote the album's release.