Belmont University Student Ditches Sorority to #FreeTheNipple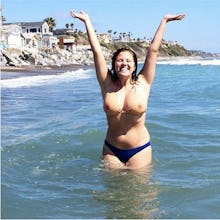 Nipples are everywhere: in ads, popular television shows and now even on social media. But when one college feminist recently posted a photo of herself wearing a TaTa top — a bikini featuring printed nipples intended to support gender equality — her sorority, Phi Mu Fraternity's Theta chapter, deemed the image unacceptable, Cosmopolitan reported Wednesday. Lauren Forsythe, the 19-year-old Belmont University student in question, disagreed and took a stand to #FreeTheNipple.
On Aug. 10, Forsythe, who posted the image on her personal Instagram account, said she was contacted by her sorority and told she could either remove the image, resign voluntarily or be dropped from the sorority, according to Cosmopolitan. She immediately sent a resignation email in response.
"I am formally withdrawing from the chapter because I no longer feel that my morals and values align with that of Phi Mu," Forsythe wrote, according to Cosmopolitan. "I joined the sorority hoping that it would be about sisterhood and was unfortunately mistaken."
While one sorority leadership member qualified that Forsythe was never presented with "an ultimatum" regarding resignation, the leadership did state Forsythe's picture violated the sorority's code of standards, could not be considered "good conduct" and "might reflect unfavorably on the individual or the fraternity." The action may also align with Belmont's "Christian values relevant to personal growth and spiritual maturity and are expected to commit themselves to high moral standards," according to the university's mission statement.
The sorority's response cuts to the heart of the attitudes that Free the Nipple, the movement that Forsythe's TaTa top supports, has targeted since its inception.
"Equality in terms of toplessness applies to the censorship of women's bodies on social media, the issue of equal pay or the stigma against breastfeeding in public," Lina Esco, founder of the Free the Nipple movement, told Mic in May. "It all falls down in the same category, which is equality."
"Sexual objectification is the problem," Soraya Chemaly, an activist who pushed back on Facebook's censorship of women's breastfeeding photos, also told Mic. "There's a difference between sexualization and sexuality. Breasts don't hurt children, breasts feed children and it's the sexualization of women's bodies that's actually hurting children the most."
Forsythe agrees. "A sorority that's supposed to be about sisterhood just saw this and instantly alienated me and said, 'No, this is too inappropriate. Your body is too inappropriate,'" she told Cosmopolitan. 
It's high time we realized women's nipples aren't inherently obscene, but considered so because of pervasive gendered double standards. Forsythe's refusal to perpetuate such sexism is commendable and will hopefully inspire others to do the same.
h/t Cosmopolitan