Hurricane Danny 2015: Where Atlantic's First Hurricane of the Season Is Headed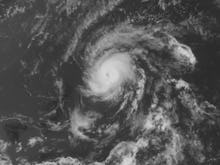 The first hurricane of the 2015 Atlantic hurricane season developed over the Atlantic Ocean Thursday, roughly 1,090 miles east of the Caribbean's southern Lesser Antilles islands, USA Today reports. 
The National Weather Service's National Hurricane Center announced Thursday morning that Tropical Storm Danny had intensified to hurricane strength, with winds topping 75 mph, and is now being called Hurricane Danny.
Meteorologists classify storms with sustained winds of at least 74 mph as Category 1 hurricanes. Officials said Hurricane Danny could strengthen further as it moves west-northwest at about 12 mph toward the Caribbean but could eventually weaken before it reaches land on Monday, according to the NHC. The storm could slam Puerto Rico by early Tuesday morning. 
Hurricane Danny is a relatively small storm system; its winds extended just 10 miles from the eye of the storm. By comparison, the winds of Hurricane Sandy, the 2012 storm system that wreaked havoc along the United States' East Coast, extended 485 miles from its center, Live Science reports. 
"According to my calculations, you could fit 321 Dannys into Hurricane Sandy," Nick Wiltgen, a Weather Channel meteorologist, tweeted Thursday.
National weather officials said it would be hard to predict how powerful Danny could be by the time it reaches the Caribbean. "Danny's compact size makes it subject to significant fluctuations in strength, both up and down, and such fluctuations are notoriously difficult to forecast," the NHC said in a statement. "Danny is expected to be weakening as it approaches the [Lesser Antilles]."
Hurricane Danny brings the number of named storms of the 2015 Atlantic hurricane season to four.
The first named storm was Tropical Storm Ana, which formed off the coast of South Carolina in May, followed by Tropical Storm Bill in the Gulf of Mexico a month later and Tropical Storm Claudette over the Atlantic in July.