The Only 8 Things You Need to Buy for the Perfect Instagram Photo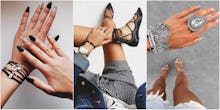 If you look at the popular and stylish posts on Instagram, a common theme emerges: They have great lighting, interesting compositions and ... plenty of great accessories. We're talking plenty of #armcandy, rings and the picture-perfect handbags and shoes.
The most basic style rule is that choosing the right accessories can transform a basic outfit into an extraordinary one. And on Instagram, the effect is greater. Photos that zero-in on tiny details are perfect for the app's 3x3 square grid format.
So if you're hoping to show off your style on Instagram, keep the following key items in mind. They'll make it a cinch for you to snap a picture-perfect Instagram photo.
1. Start with the basics: Your nails are accessories, like everything else. 
Whatever your style, everything from the colors to the shape and length of your nails is fair game for showing off on Instagram.
2. Snacks are an extension of yourself.
Macaroons are regulars in fashion bloggers' posts, and for good reason. Your choice of dessert serves as the perfect accessory for a Instagram photo. So before taking a bite out of that ice cream, macaroon or cupcake, it's worth capturing the moment in a photo.
3. The more rings, the better.
There's no shortage of ring styles these days. From midi rings to stacked rings or two-finger rings, everything and anything goes. Just think: more is more.
4. Beyond the rings: #armcandy
Earrings are easy to forget you have them on. Bracelets, though, are an accessory that you can quickly look at and admire. Start stacking them and put together some #armcandy for your own #armparty.
5. Big, bold-faced watches are essential.
Watches are the perfect combination of form and function — not to mention, they also offer a nice contrast to bracelets.
6. Sunglasses go on tables, not on faces.
Sure, they're meant to be worn, but take them off for a moment and you've got another item that's more than Instagram-worthy.
7. It's never not about the shoes.
You're not going to be sharing a photo of your jeans, are you? 
8. Coffee is your friend. Treat it well with a great mug.
We really love coffee because it makes for the best accessory. The perfect coffee mug makes it even easier to drink your own basic homebrew while still looking stylish as ever.