Carly Rae Jepsen's New Album 'Emotion' 2015: Download Info, Tracks, Reviews and More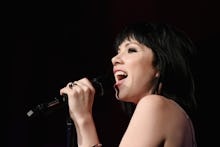 Carly Rae Jepsen's new album, Emotion, dropped worldwide on Friday. 
The much-anticipated album, inspired by music of the '80s, is the 29-year-old Canadian singer's third studio album since placing third in season five of Canadian Idol in 2007. Jepsen has since garnered numerous accolades, including winning an American Music Award, five Juno Awards, three Much Music Video Awards and two Billboard Music Awards. She was also nominated for two Grammy Awards for her hit dance-pop song "Call Me Maybe."
The artist told Billboard in June 2013 the album was "a pop album, but ... an album that is my own version of pop" and said her favorite artists at the time were "Robyn ... Kimbra, La Roux and Dragonette." 
Here's everything to know about Jepsen's new album, Emotion:
How to download the album: Emotion hit iTunes on Friday and is available for download. 
Tracks: Emotion boasts 15 tracks, including the album's lead single, "I Really Like You," released in March. It also includes a second single, released in July, titled "Run Away With Me." 
Other tracks include "Gimmie Love," "All That," "Boy Problems" and "Making the Most of the Night."
What music fans are saying. Listeners were generally pleased with Jepsen's latest album, calling the writing "impressive" and even "rapturous."
"It's such a competent piece of work, every moving part not only well-oiled but possessing the kind of charisma that not even the most cunning Swedish mega-producer can create in the studio," Emily Yoshida of the Verge wrote. 
"Emotion shares its sleek, Miami Vice Instagram-filter vibe with Taylor Swift's blockbuster 1989, and in some ways, it commits more fully to the aesthetic they both share," Vulture's Lindsay Zoladz wrote. "I would go so far as to say that Emotion is a better album than 1989."
"Emotion is as solid and spotless a pop album as you're likely to hear this year, the result of several years working alongside a storied list of contributors," Corban Goble of Pitchfork wrote. 
On the other hand, "Emotion fails to tell us who Jepsen is or wants to be," Goble wrote. "The album mostly feels like the conclusion of a team determined to create an unassailable pop product."