Sorry, Josh Duggar — You Don't Get to Blame Porn for Being a Hypocrite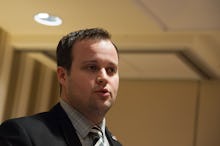 On Thursday, Josh Duggar, the former star of 19 Kids and Counting and accused pedophile, released a statement on the Duggar family's website after it was reported that he had an Ashley Madison account. In the statement, Duggar apologized for being a "hypocrite" and blamed his infidelity on an addiction to pornography.
"While espousing faith and family values, I have secretly over the last several years been viewing pornography on the internet and this became a secret addiction and I became unfaithful to my wife," Duggar wrote.
"I am so ashamed of the double life that I have been living and am grieved for the hurt, pain and disgrace my sin has caused my wife and family, and most of all Jesus and all those who profess faith in Him."
While Duggar clearly intended his addiction to Internet pornography to absolve him of all responsibility — to his wife, to his fans, and to Jesus and all those who profess faith in Him — there were a few problems with the statement. For starters, Internet pornography addiction might not be a real thing — at least, there's very little consensus that it is in the medical community. Some researchers argue that existing porn addiction research is sloppy and provides scant evidence that it's a neurological addiction.
But even if Internet pornography addiction were 100% a thing, watching porn doesn't give you an excuse to be a terrible person. In fact, watching porn doesn't give you an excuse for anything.
A common crutch: Duggar isn't the first prominent person to use the scourge of Internet porn as a convenient scapegoat for his personal issues. Back in 2010, Tiger Woods claimed to be addicted to sex and porn after he was caught cheating on his wife with more than a dozen women, and even checked into a rehab facility to treat his addiction. And X-Files star David Duchovny also played the porn addiction card in 2008 after it was rumored that he was unfaithful to then-wife Téa Leoni.
In fact, sex addiction has been used as a scapegoat for celebrities' personal problems since it first entered the cultural vernacular in the 1980s, when psychologist Patrick Carnes coined the term in a book. (Due to the lack of consensus in the scientific community about its legitimacy, sex addiction is not in the DSM-V.)
Duggar is not alone in blaming porn for a range of societal or cultural issues. Internet smut has been blamed for everything from the rise of national divorce rates to the 2014 UCSB shootings. And it's easy to see why: In a puritanical culture that reins in sexual expression, porn has become a convenient scapegoat, a shibboleth that we can all unquestioningly point fingers at whenever we're too tired or lazy or ignorant to identify the real source of our problems.
In Josh Duggar's case, the real source of his problems isn't that he's addicted to whacking off. It's the fact that he is a person with demons, a man who is so afraid of himself and his own urges that he shames and castigates everyone else's. His problem isn't porn, but the fact that he is a hypocrite. And there's no rehab or public relations statement that can change that.