Carly Rae Jepsen's New Album Proves She Deserves to Be Taken Seriously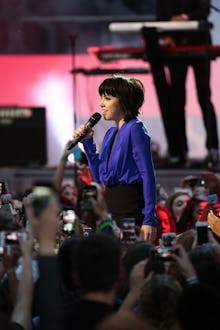 Carly Rae Jepsen's breakout success was easy to explain. When she entered the scene three years ago, "Call Me Maybe" was the finest bubblegum pop that money could buy. Its chorus burst with naturally and artificially flavored sweetness, like a Gusher in the ear, and its cheeky lyrics read like an innocent note slipped into a locker.
It turned Jepsen into that singer, who, though approaching 30, could capture spirit of a young tween and translate it into the perfect three minutes of song. 
Now, she wants to be more. 
That's not easy for someone with Jepsen's reputation, but her new album, Emotion, released Friday, could take her there. It reaches into far more ambitious musical territory than anything she's attempted before. While there's still plenty of glistening, unpretentious joy, it's served up with far more musical and lyrical depth. The result is a masterful, '80s-tinged piece of pop excellence.
The album's mission can be summed up in a single quote from Jepsen's manager, pop empresario Scooter Braun: "We had the biggest single in the world last time ["Call Me Maybe"] and didn't have the biggest album," he told the New York Times. "This time we wanted to stop worrying about singles and focus on having a critically acclaimed album."
It sounds that way. The album has a cohesive aesthetic from start to finish, and the fingerprints of Jepsen's collaborators appear throughout. Devonté Hynes' (aka Blood Orange) luxuriant funk is hard to miss on "All That." Vampire Weekend's Rostam Batmanglij co-wrote "Warm Blood," which has a slow, wavering burn that evokes his band's indie hits like "Hudson." Yet Jepsen manages to own these tracks and ensure her identity shines through.
Pretty much every song is about love. But her songwriting paints love out to be more divisive and poetic than her previous songs did. "LA Hallucinations" opens with, "I remember being naked/ We were young freaks just fresh to LA," and provides the perfect introduction to the hyperrealistic paparazzi-chase the song becomes. "There's a little black hole in my golden cup so/ You pour and I'll say stop," she sings in the hook. Like the line suggests, while she constantly flirts, pleads and yearns for love throughout, she's always in control.
The response has been overwhelmingly positive. Jepsen has been getting praise across the critical sphere. Pitchfork, which didn't even bother to review her previous releases, called Emotion "as solid and spotless a pop album as you're likely to hear this year." And Consequence of Sound praised the way the record "rolls out banger after banger, all while sustaining a remarkable level of complexity and compassion." It's even earned her seemingly earnest comparisons to the poet Anne Carson and 13th-century mystic Marguerite Porete in a piece on the Awl.
But while the album's higher minded conception has earned it more attention, it hasn't helped Jepsen' on the charts — historically the be-all, end-all measure of a pop album. None of the singles off Emotion have charted anywhere near "Call Me Maybe," which held on to the top spot on Billboard's Hot 100 for nine weeks, making it the longest-running No. 1 of 2012. Her highest charting single this time around, "I Really Like You," just barely cracked the top 40, and the rest haven't even come close. This may be inevitable when an artist with a reputation as polarizing as Jepsen tries to cut a more elegant album.
As the album bounces around the Internet in its first week out, maybe it'll earn itself some numbers to brag about on the charts. It certainly deserves them. The album is exuberant, bubbly and beautiful. While it might not be the great American pop masterpiece that brings life, death, joy and pain into its verses (it's no Thriller), it's a consistently fun exploration of love through a very 21st century lens — BuzzFeed mentions and all.
"I can't believe how much I turn into a teenage girl when I'm really newly into somebody," Jepsen told Complex in a recent interview, blurring the lines between the album and life. "I can hear myself, and be like, 'You know better. We've done this before. He's definitely not perfect.' But that feeling, those butterflies, I think that's an ageless sentiment. When you first meet someone, there's that spark and that childishness of wanting to believe in magic."
Jepsen's album is the our reminder of what that magic feels like, the best we'll hear this year.