Online Petition for Jon Stewart to Host a Presidential Debate Has 140,000 Signatures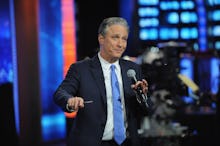 A new Change.org petition is asking for former Daily Show host Jon Stewart to be tapped to host a presidential debate.
As of 8:30 a.m Friday, Mariel Waters' "We want Jon Stewart to moderate a 2016 presidential debate" petition had received more than 140,000 signatures and seemed likely to exceed its stated goal of 150,000.
"Jon Stewart is more than qualified to tackle the moderating job," the petition reads. "Over the last 16 years, Jon Stewart has played an influential and iconic role in covering U.S. politics and media. We believe he should continue that tradition as a moderator at one of the 2016 Presidential Debates." 
Waters also cites how, far from just a funnyman, Stewart has experience interviewing heads of state and political leaders and had already received considerable praise for past presidential coverage.
"In addition to his vast experience working with political figures, Jon Stewart is accomplished in presidential election coverage. His work on The Daily Show received the prestigious Peabody Award for its coverage of the 2000 and 2004 presidential races." 
While the idea may seem impossible, given Stewart's partisan reputation, it's not the first time a grassroots petition has made demands of the Commission on Presidential Debates. In at least one famous case in 2012, when three New Jersey high school students demanded a female debate moderator, the powers bowed and gave the honor to CNN's Candy Crowley.  
Stewart and The Daily Show, which he hosted for 16 years before retiring earlier this month, were also consistently rated among the most trusted news sources in the United States. According to Pew Research Center data, the show was more trusted for news than Bloomberg, and only narrowly trailed the Huffington Post. The impressive numbers came despite nearly a third less name recognition than trusted leaders CNN and ABC News. 
h/t Time